Court is in session! Erm, we mean take to the courts in NBA 2K18, which dunks onto the shop this week, with beach racing, definitive legends, quests and half-circles along with much more.
With NINE new releases this week, is there anything for you?
---
NBA 2K18 – €66.99/ £54.99 / CHF 75.00
The highest rated* annual sports title makes its Nintendo Switch debut with NBA 2K18, featuring unparalleled authenticity and improvements on the court.
*According to 2008 – 2016 Metacritic.com
There are two alternative versions on the shop with my team packs and various DLC portions if you want to spend ludicrous amounts of cash on the game. The retail release will follow in October.
Rayman Legends: Definitive Edition – €39.99 / £29.99 / CHF 44.90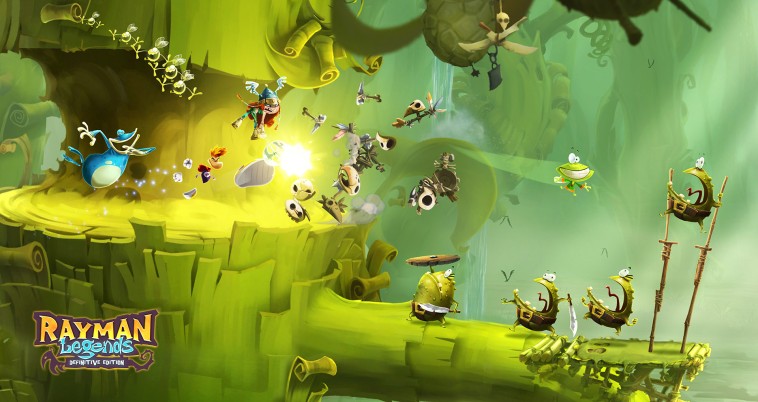 Rayman rocks again on Nintendo Switch! Discover the ultimate experience of the acclaimed platformer with Rayman Legends: Definitive Edition.
36 Fragments of Midnight – €2.99 / £2.99 / CHF 4.20
This time Midnight's friends have lost their Star Fragments! Your task is to find them, and take them back, but it won't be easy. In this procedurally generated platform game, you have to avoid deadly lasers, circular saws and spikes to collect all the Fragments, to get their greatest gift. Do you have what it takes to collect all?
Robonauts – €13.49 / £12.14 / CHF 28.90
The action combines familiar arcade shooting gameplay with a unique possibility to switch gravity. Colorful graphics appeal to both younger and adult players while first-class music by Simon Viklund makes the adventure feel even more epic.
Beach Buggy Racing – €9.99 / £9.99 / CHF 10.00
Drive into an action-packed, surprise-filled world of off-road kart racing mayhem. Race against a field of rival drivers, each with unique personalities and special abilities. Build a collection of crazy powerups, like Dodgeball Frenzy, Fireball, and Oil Slick. Unlock and upgrade a variety of cars, from dune buggies to monster trucks. Test your skills in 6 different game modes on 15 imaginative 3D race tracks, against a pack of tropical-loving rivals with a serious case of road rage! Fast, furious, and fun, Beach Buggy Racing is a kart-racing island adventure for all ages.
Kingdom: New Lands – €14.99 / £13.49 / CHF 21.00
Tales spread of far off isles with mysteries waiting to be discovered. Rulers will need all the strength of their subjects to sail away and find new kingdoms in these New Lands.
Kingdom: New Lands builds upon the award-winning gameplay and mystery of Kingdom by
introducing an abundance of new content to the IGF-nominated title while maintaining
the simplicity and depth that legions of monarchs have come to experience and enjoy.
Travel to the New Lands and welcome the deluge of new mounts, merchants, and vagrants that call these isles home, but be wary of the new obstacles that threaten your arrival — for not just the greedy creatures block your way but even the environment itself can defeat you. Be brave, ruler, and fight to the bitter end, lest these New Lands conquer you instead.
PAN-PAN A tiny big adventure – €5.00 / £4.99 / CHF 6.50
PAN-PAN is an open plain adventure that expands on the concept of environmental narrative storytelling with puzzle solving and exploration elements at its core.
Set against a backdrop of soothing ambient sounds crafted by renowned sound composer
Simon Viklund, your task is to fix your downed spaceship and begin the pilgrimage
home. In a world littered with world shifting riddles and sprinkled with the memorable characters – how you solve these riddles is firmly in your hands.
Quest of Dungeons – €8.99 / £7.99 / CHF 12.60
Quest of Dungeons is a turn based dungeon crawler game, a roguelike featuring a good old 16-bit retro artistic look. An evil Dark Lord has stolen all the light, so your mission is to enter his lair and defeat him.
By playing as either a Warrior, a Wizard, a Assassin or a Shaman you have to traverse dungeons, defeat enemies and loot everything you can in order to survive.
You can learn new skills in Tomes you find along the way and buy/sell items at
shops. The entire game is procedural so you won't find items/enemies in the same place each time you play.
Semispheres – €9.99 / £8.99 / CHF 13.99
Semispheres is a meditative parallel puzzle game that places dual realities at the heart of its challenge. Its unique single-player split-screen mechanic challenges your brain by putting you in control of two characters at the same time. Your left and right side must work together to unfold the mystery by solving clever puzzles in an entrancing ambience. Using portals and other abilities to avoid sentries, devise and execute your plan, reuniting the parallel worlds of Semispheres.
Demos
project OCTOPATH TRAVELER (working title)
DLC;
[NBA 2K18] In-game currency – Various
Be sure to check back on Switch Player for reviews on these titles soon! Will you be picking anything up this week?