There cannot be many among us that were surprised when the Nintendo Switch Lite was announced. After all, Nintendo revising their handheld systems has been something of a staple over the years. Usually, we end up with something that improves on the original design, or, rarely, offers something more unique. The Switch Lite offers a little bit of both.
I wasn't one for thinking that the Nintendo Switch was particularly gargantuan, but to get a feel for just how much smaller the new Nintendo Switch Lite is, picture this: the box that the device comes in is SMALLER in width than a standard Nintendo Switch.
Of course, being around 20% smaller and lighter would more than earn it a "Lite" moniker, but it's also able to have more diminutive packing because it forgoes the dock and the Joy-Con grip. That's because this is very much a handheld-only iteration of the Nintendo Switch family. Not only does it not come with a dock: it cannot connect to an existing one either.
---
---
Holding the Nintendo Switch Lite for the first time is just as special as the first time you held the original, but somehow it now feels perfect. It's far sturdier, and that's no doubt aided by the incorporated design, as well as the loss of more than 25% of the weight. The original system (especially if it's been as well-used as mine has) can feel a little wobbly at times in the Joy-Con area, and although this is smaller, it immediately feels much more comfortable in your hands. The entire thing comes in at around 275g, versus 398g for the original model.
A rather more obvious revision to the system is the presence of an actual D-Pad, which I'm sure is a welcome addition for many and replaces the smaller, circular buttons from the right Joy-Con. The speakers have been relocated to the bottom of the device, as has the memory card slot – because there's no kickstand. Instead, your Micro SD card is now placed in a compartment not dissimilar to the cartridge slot, which is still located upon the top of the system, as are the power button and volume controls.
---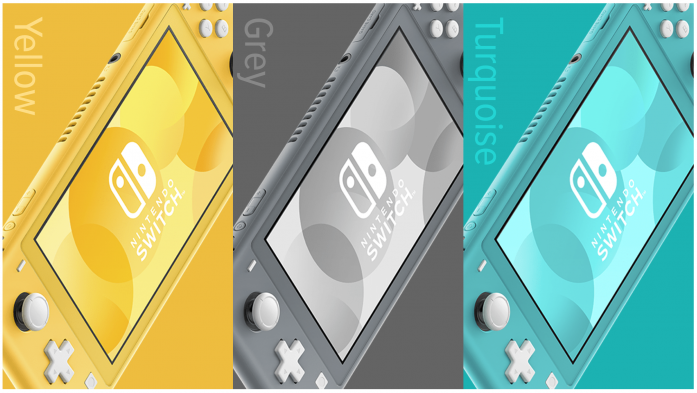 ---
The screen is also noticeably smaller, with this iteration now sporting a 1280×780 5.5-inch screen, but that really hasn't impacted on the visual quality at all. In fact, it might be confirmation bias, but it actually looks better to this writer. Another massive improvement to the design is with the vent at the top of the Switch, which existing owners will know can be quite brittle and susceptible to damage. Here, it's far more robust and less likely to become damaged. Although, I suspect that the device itself will not be as prone or as venerable to heat anyway, due to a lack of docking. It's not all good news, as the system has also had the HD Rumble and the IR sensor removed, although the latter isn't really that much of a loss.
So, it's lighter, more comfortable, sturdier, and has benefited from many design refinements, and also features better battery life compared to the base model. It comes in a wide variety of colours and at launch, you can choose from Grey, Turquoise and Yellow, with a Pokémon Sword/Shield edition launching in November, if you wanted to wait for that one. All of the colours exude personality and charm that the standard design lacks, despite the massive variety in the different Joy-Con that have become available over the years. They aren't the same. It's also got a matte finish across the whole device, which certainly feels a lot more "grippy".
---
---
As I've now noted twice, though, the system doesn't dock. Not only are you completely unable to play any games on your TV with a Nintendo Switch Lite, but the lack of a kickstand also removes any table-top functionality, which means that handheld is the only way you can play. This also means that if you own any Nintendo Labo Toy-Con sets, 1-2-Switch, Just Dance, Fitness Boxing, Super Mario Party or have eyes on the upcoming Ring Fit Adventure, this Switch isn't compatible by default. If you have additional Joy-Con, then you can probably get some functionality with these titles, but it's not going to work straight off the bat. And Nintendo Labo isn't really going to work very well at all. It won't fit inside any of the creations for starters.
By this point you'll very much be aware that I'm writing this review from the point of view of an existing Nintendo Switch owner. Now the primary reason for that is because if you are reading this review, there's a very good chance that you already own a Nintendo Switch and are probably wondering whether or not you should be looking to upgrade. Well, the Nintendo Switch Lite is an absolutely phenomenal device and is quite possibly my most favourite Nintendo system design so far. There's so much to love about it, in the styling, form factor, weight, colour options and improvements all-round. It plays almost everything that already exists and is a true, portable gaming experience. I just didn't really know who it's for.
---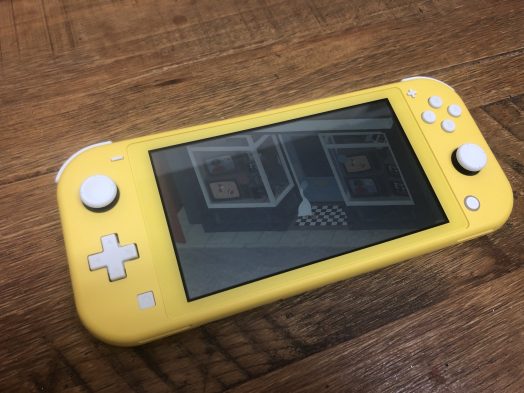 ---
Now, before you all think that's a silly statement, hear me out. If you already own a Nintendo Switch, is there enough here for you to upgrade, or use it as a secondary device? I'm not so sure. Of course, you can add your Nintendo Account to multiple devices and in theory play on another system, but it's not completely seamless, and messing around with save data could be a pain, especially if you don't have access to cloud saves (via Nintendo Switch Online). This is the point where I tell you that you cannot simply switch Micro SD cards between systems that share a Nintendo account, which is absolutely ludicrous.
I guess the appeal of the Nintendo Switch Lite very much depends on whether you predominantly play handheld or not, and don't mind the loss of that big-screen functionality – especially if you intended on selling on your original Switch. For someone like myself, who plays 95% handheld, the Switch Lite is ideal, especially when using it in tandem with my original unit. However, if we are being honest, if you already own a Nintendo Switch, then you probably aren't the primary audience for this release. Not unless you buy everything with Nintendo's name on it.
---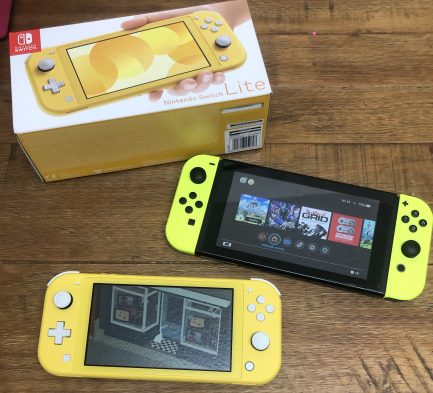 ---
The 3DS is very much in its swansong, and the Nintendo Switch has definitely hit the sweet spot with its hybridised formula. By combining both their handheld and console divisions, Nintendo gamers get the benefits of ALL worlds. This has, however, left Nintendo with just one pillar to focus on, and you can see where a dedicated, handheld-only entry with a cheaper price point might make sense to them. Especially with some big-hitters due out in the next six months for those that might only buy the odd title. I know people that will only play Pokémon, for example, or Animal Crossing.
If you DO NOT own a Nintendo Switch yet, then you will be the ideal audience for this. And you are looking to get into the Nintendo Switch scene (and you should, the system has some incredible experiences among a library of almost 3000 titles), then the £199.99 price point may well be attractive. The alternative perspective here, of course, is that it's only an £80 saving versus the fuller experience. For that, you'll get the ability to play on the big screen if you so desired, the benefits to the experiences that HD Rumble brings, and with the newer revision, even more battery life in handheld mode.
Ultimately, if playing games handheld is the way you want to play, and you aren't bothered at all by the lack of docking, then I would absolutely recommend purchasing the Nintendo Switch Lite, especially if you don't already own a Switch. It's beautifully designed, incredibly comfortable and an absolute joy to experience, and I can unequivocally tell you that this will be the system I predominantly play Switch games on from now on. I've already made it my primary.
---