Marking the third and final chapter in The Alchemist of Arland trilogy, the release of Atelier Meruru DX on the Nintendo Switch brings a close to the RPG adventure. Taking the already proven formula of the past two titles in the trilogy and adding a number of new elements, the title looks to finish up the story of the trilogy.
This time around players follow Meruru, who is the princess of the little kingdom of Arls, found north of the Arland republic. After telling her father, the leader of Arland, that she wants to become an alchemist rather than follow her royal duties, she is given a challenge. She can follow her dream but must prove that it can be beneficial by using it to improve the kingdom within a set time period. Between managing her royal duties, learning more about alchemy, improving her kingdom and keeping her subjects happy it is no easy task but thankfully it is an entertaining journey.
---
---
Improving the kingdom is done by increasing the population and managing the popularity of Meruru all through the power of alchemy. Should you fail to complete a key request or not maintain your popularity then you'll be faced with a game over. The trouble is that unlike other entries in the series, Atelier Meruru DX takes the familiar time limit mechanic and brings it to a new level. Performing alchemy, gathering materials, moving between areas and even battles all move the clock forward and continuously put players in a state of pressure and stress.
The negatives don't stop there, though – it is also in the presentation that Atelier Meruru DX falls apart. Both in handheld and TV mode the framerate of the title drops noticeably across many different parts of the experience. The visuals of the title are dull and lifeless as well, even though the art direction seems to be that of a watercolour painting. That is disappointing. The same disappointment is found in the music and sound design as well which is a shame given the quality of the other titles in the trilogy.  
---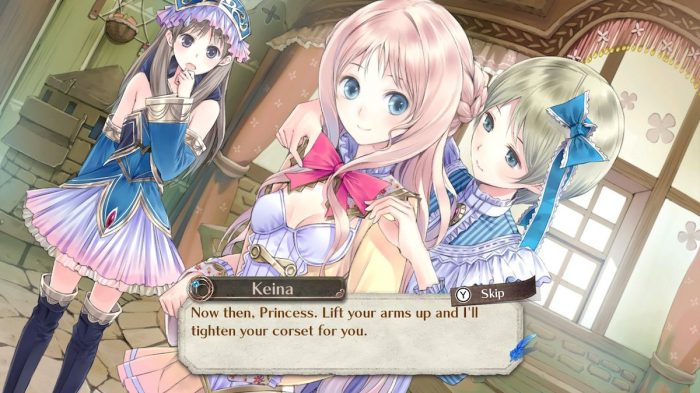 ---
It is a shame that Atelier Meruru DX has so many disappointing elements within the presentation and gameplay as it overshadows the enjoyable narrative and conclusion to the Arkland trilogy. Thankfully the battle system remains largely the same and is a familiar comfort from these sour points. You'll want to play through the experience to see the end of the story for the characters you have come to know and love but it is a painful one to push through.
Atelier Meruru DX is a less than ideal end to the The Alchemist of Arland trilogy from a gameplay standpoint, but the narrative is enough to make it a worthwhile visit if you are invested in the trilogy.
Atelier Meruru: The Apprentice of Arland DX
Summary
Atelier Meruru: The Apprentice of Arland DX wraps up the story of the trilogy nicely but fails to impress from a gameplay standpoint.