The 80s-inspired roguelike RAD, from indie darling Double Fine, could be the developer's last game we see on a Nintendo platform for a while, following their recent acquisition by Microsoft. Fortunately, at the very least, we have here an absolute banger of a game – one that is extremely fun to play, addictive, and one you'll want to keep going back to. It's rad.
A perma-death thrill-ride set in a procedurally-generated world, RAD puts you in control of a stylish teenage hero, chosen by their village to venture out into the 'Fallow' wasteland armed with nothing but a baseball bat. Varied, eccentric characters and environmental storytelling fill in the gaps of mystery as you delve deeper, and as you progress, fighting enemies and unlocking new areas, you'll start to increasingly mutate, growing new powers and abilities.
---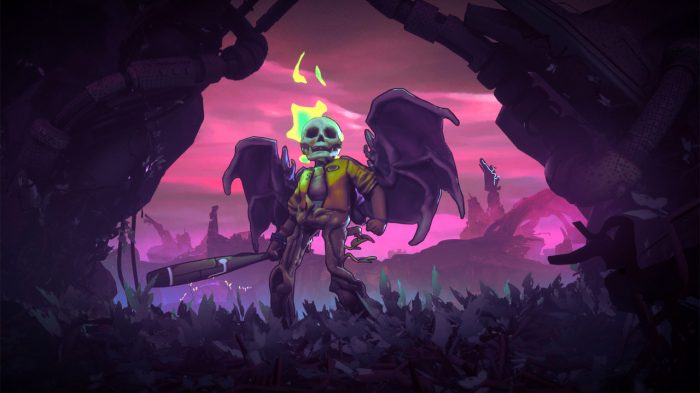 ---
Some of these mutant abilities are better than others, and many of them are hilarious. One run you could find yourself controlling a crab overlord with boomerang arms, and in the next, you've grown the ability to give birth to little spider-minion versions of yourself (visualise that how you please).
This gameplay dynamic really nails the roguelike loop on the head, as you're always getting something fresh and unique every time you play. There are also daily challenges with leaderboards, and even handicaps you can unlock and apply to a run to make it harder.
---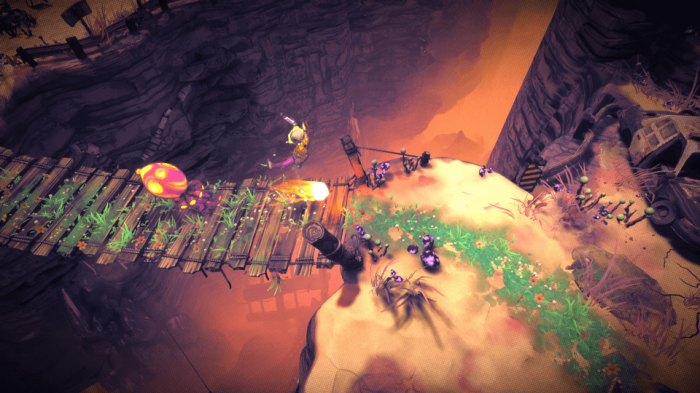 ---
From the moment you press start, RAD instantly 'radiates' an 80's vibe, with its preset CRT filter and amazing voiceover guy. The music is part-gymnastics workout video, part synth-wave disco. And then you have this Sunset Overdrive-esque fun, apocalyptic vibe overlaid onto it, with drums kicking in that hint at different eras and enemies/threats.
As you explore, the world around you will start to gain back some of its former beauty, and transform into a vibrant green that contrasts from the wasteland, reverting to a visually rewarding treat. With the outstanding art direction, everything assimilates to create an outlandish and yet believable world, in true Double Fine fashion.
---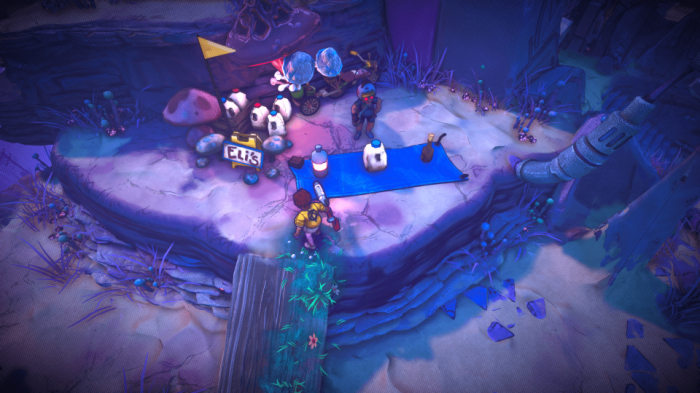 ---
A few graphical hiccups aside, RAD's presentation and polish is excellent. Characters react to your mutations and exactly what you're doing, and you can even fine-tune the game in the settings, depending on your audio/visual preferences. Published by Bandai Namco, the game even features some awesome references to classic arcade games, such as a hidden Galaga powerup and some cool additional costumes you can grab as DLC if you fancy it.
One thing that's less-than-tubular about the Switch version of the game is something that sadly has become a normalcy on the platform: performance issues. In the latter stages of each run, when enemies are aplenty and things can get a little bit hectic on-screen, the game can stutter slightly. This is not a big problem, and if anything it's just an excuse for me not being that good rather than something that affects the moment-to-moment gameplay, but once again I'm in the position where I'd be lying if I said you wouldn't perhaps enjoy it more on a smoother console or PC version. But hey! Portable benefit.
---
Summary
RAD is an excellent roguelike, that oozes the signature Double Fine charm from its terrifyingly mutated pores. Beautiful art direction from Lee Petty's team and solid replay value from the extensive combination of powers each run make it extremely worthwhile.