It would be easy to reference Toy Story, Small Soldiers and Eminem's Like Toy Soldiers throughout this review, but it would be an injustice to the unique and engaging first-person shooter that HYPERCHARGE Unboxed is.
That's not to say there aren't tried-and-tested gameplay experiences on offer here, nor shared similarities to other toy soldier-inspired media, but the intelligent decision to combine wave-based tower mechanics with first-person shooting has paid dividends for the Digital Cybercherries team.
---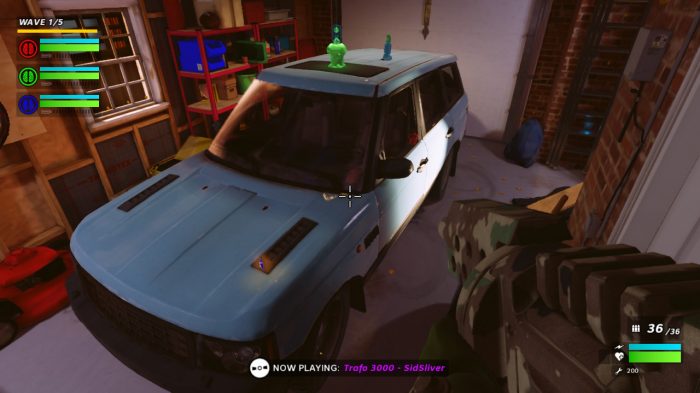 ---
Apparent from the outset, HYPERCHARGE is a very solid shooter. It is satisfying to wield each of the large number of weapons and the shots feel punchy and powerful. From shotguns to machine guns and everything in between, the weapons allow for strategy to be employed both before games begin and also on the fly in the form of pick ups and playing cards.
Hand in hand with excellent gun-play is a need for quality map design. Playing as a toy soldier means the possibilities for map design are endless, and here they include bedrooms, toy stores and back gardens. The assortment of locations is superb, and the object placement makes for maps which are realistic and enjoyable to traverse. With the aid of a double jump, you are equipped with the power to scale any and all objects in sight. The jumping mechanic is, for the most part smooth enough, however there are times where it can prove frustrating, time-consuming and inaccurate.
---
---
The enemies you encounter are creative and varied, each posing a problem as you seek to defend the three coloured towers dotted around the map. Some enemies approach from the ground whereas some are up high, and they each have their own quirks which makes for an exciting prospect as the waves of enemies get larger and more challenging to overcome.
Before each wave of enemy there is a building stage where each teammate can spend their own coin balance to improve defences. Indicative of the toy soldier aesthetic, these range from gooey substances, to stop toys in their tracks, or LEGO brick walls to delay their pursuit. There is a delectable charm and wit to the game, especially when wave after wave of nostalgia hits as childhood memories come flooding back – Boglins and Beyblades to name a few. When coupled with the beautifully-rendered environments in which they are presented , it makes for a fantastically enjoyable animated shooter.
---
---
The crowning glory of HYPERCHARGE is its multiplayer options. The game can be enjoyed as a single-player experience, however it never feels as though it was intended to be played this way. It offers online co-op, PvP and split screen options. The experience is solid, with no noticeable frame-rate dips or lag. Working together to earn gold and platinum medals to unlock new levels and customisation options feels great and hours can be spent strategising and re-attempting levels to master them.
Alongside concerns that HYPERCHARGE is largely dependent on online multiplayer and the rather frustrating jump mechanics, there are a few functional improvements which need to be made to improve the game further. At the time of writing, there are difficulties joining friends online that the team are looking into. As well as this, there is a need for a tutorial to understand all that is going on – fortunately, this is something that will be coming soon after launch. Once patched in, HYPERCHARGE could well become a cult classic for fans of first-person shooters on the Switch.
---
With thanks to Chelsea Beardsmore.
---
HYPERCHARGE Unboxed
£19.99
Summary
There is a lot to like about HYPERCHARGE Unboxed and it combines many elements to offer the variety of a rich kid's toy box. Its dependence on online multiplayer could be its downfall, but here's to hoping the community get behind it.