Frozenbyte are a Finnish game developer probably best known for their work on the Trine series of action/puzzle platformers. Their current project is Has-Been Heroes for the Nintendo Switch, so we had a chat with them about it!
Hello Frozenbyte! Can you tell us a little bit about your studio and how you got into developing games?
That's quite a long story but it all started out with two high-schoolers who wanted to make games many years ago. Our CEO Lauri and Senior Programmer Juha founded the company back in 2001. They started making games basically at home, then moved the company into a garage and so on… eventually releasing our first game Shadowgrounds back in 2005. Since then we've made a number of other games, with the Trine series being the most well-known of the bunch.
You have released Has-Been Heroes for the Nintendo Switch. Can you tell us a little bit about what it is?
Has-Been Heroes is a roguelike game of strategy and action, where a band of heroes are on a quest to take the King's twin princesses to a faraway academy. The heroes used to be legendary champions but are now a bunch of has-beens, retired and worn out and with only two members the original group left – the warrior, Crux, and the monk-mage Metacles. They're joined by a young rogue by the name of Tam on the daring quest!
Players control three characters during the journey, and must use a combination of melee attacks and powerful spells in order to defeat the incoming onslaught of enemies in their path. The game has a huge pool of 300 spells and 200 items that are all randomized on each run, along with the enemies and regions. It has permadeath, so you'll die a, lot but beating the boss fights will allow you to progress on a bigger scale.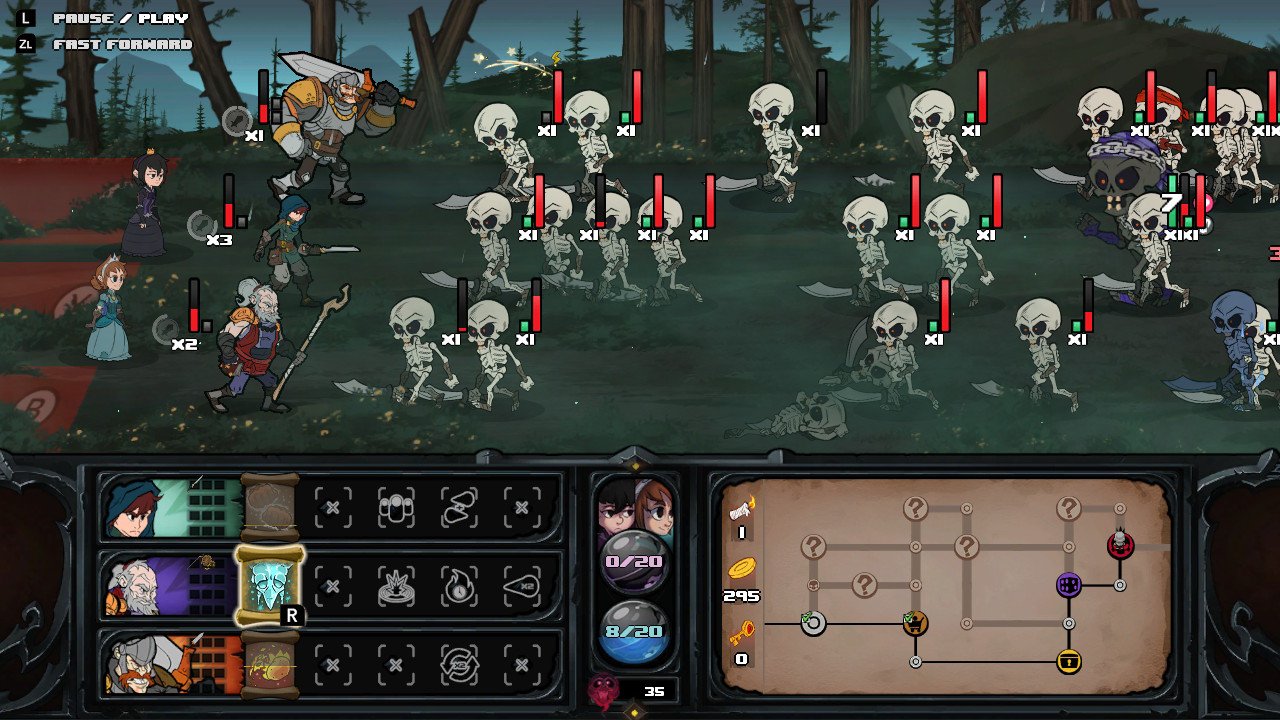 The game is a mixture of real time and turn based strategy. How does that work?
It runs real time, but automatically pauses after each melee attack you make in order to allow for lane swaps between characters. There is also a toggle button for pause that you can use at any point, to give yourself time to think about your next move and cast spells more efficiently.
Will there be any differences between the Switch version and the other formats?
Gameplay/content-wise the game is identical on all platforms, and if you put any of the console's controllers in your hands it plays pretty much exactly the same, but the buttons are just named differently.
On Switch we have the HD Rumble for spells, and you have the ability to continue the game on the go in portable / tabletop mode due to the hybrid nature of the console, which is pretty cool!
What made you want to develop the game for the Switch? How have you found developing for the Switch?
It was something we thought about even when the only thing we knew about the platform was the codename NX. Once it was revealed, we thought Has-Been Heroes would be a great fit for the Switch.
Development went well, the Switch has been a pleasure to work with and we're very impressed with how well-thought out everything has been from a developer perspective.
What games would you say have inspired development of Has-Been Heroes?
A lot of roguelike games like FTL, Binding of Isaac and those types of titles have been an initial inspiration, although the gameplay in Has-Been Heroes is quite different.
We mainly wanted to create something challenging that you could sink a lot of time into, but still be able to play in short bursts.
What gameplay will gamers encounter when playing Has Been Heroes?
There's definitely a lot of strategy involved, thinking about your next moves, what enemies to target and with what abilities, where to swap your heroes next etc.
Players control three heroes on three lanes, and use melee attacks and spells to destroy the incoming enemies. You need to keep in mind the cooldowns of the different abilities, how many hits and how much damage the heroes make compared to enemy stamina and health, as well as what spells to use and in which order, and which enemies to prioritize.
Spells e.g. have very cool effects when combined together, e.g. water spells with wind creates ice, fire with lightning makes an explosion and so on. There are 300 different spells in the game, and the ones you get are random on each run, so you need to adapt your strategy every time you play!
When you first start out with Has-Been Heroes, the controls will take a few minutes to get used to, but once you've got those figured out the game starts flowing faster and faster and you'll be thinking several moves ahead.
Are there any games coming out for the Switch that you are interested in or you think look amazing?
Zelda is looking like a must-buy! I haven't had a chance to try it yet, but I'm pretty sold based on what I've seen.
9. What's next for Frozenbyte?
Has-Been Heroes and Nine Parchments are coming out this year, and we're also working on some other projects that we'll reveal more about at a later time.
Finally, if you have to choose just one, what is the Switch to you? A handheld that you can plug in or a console you can take out?
If I had to choose just one, that's pretty tough but I think I'm mostly going to play it in handheld mode.
We would like to thank Frozenbyte and in particular, Kai, for their time with this interview. Has-Been Heroes is out now and you can check out our review here!