Face off with some of your favourite Pokémon, search for a long lost friend, expect the unexpected and immerse yourself in the biggest Dragon Ball title yet. What to expect from this week's eShop offerings!
After being spoiled, just the FOUR new releases this week, is there anything for you?
---
Pokkén Tournament DX – €59.99 / £49.99 / CHF 77.90
Play Pokkén Tournament DX in TV mode, handheld mode, or share a Joy-Con controller with another Trainer to battle one-on-one in tabletop mode anywhere!
A brand new fighter – Decidueye enters the battle, alongside all previous Pokémon from the Wii U and arcade versions.
New Support Pokémon – Litten and Popplio make their debut to lend their support in battle.
Team Battle mode – Pick three Pokémon and battle it out to be the first to defeat all your opponent's Pokémon to win in the new Team Battle mode.
Group Match mode – Find similarly skilled players in battle rooms for intense and fun battles online.
Daily Challenges – Complete a variety of different daily challenges.
Watch battle replays – Hone your skills by watching other players' replays and share your best matches online with the new replay feature.
Jump straight into battle – All characters and Support Pokémon will be available right from the start of the game.
Ryan reviewed this for us this week and you can check out his thoughts here!
SteamWorld Dig 2 – €19.99 / £14.99 / CHF 28.00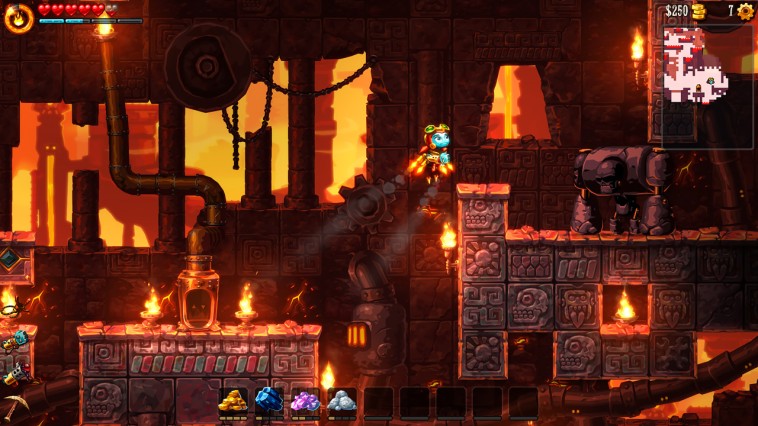 SteamWorld Dig 2 takes you on a platform mining adventure forged in Metroidvania flames. When an old trading town is struck by mysterious earthquakes, it's up to a lone steambot and her unlikely companion to uncover what trembling terrors lie beneath. Dig your way underground and explore vivid worlds riddled with treasure, secrets and traps. Combat dangerous enemies at every turn of the underworld's twisted paths, including shadowy creatures and the haunted remains of an ancient electrical threat. Upgrade your gear to forge deeper into the earth and take on bigger challenges. Swing across large chasms with your Hookshot and fly through caves with the Jet Engine! And finally, learn the truth about your long lost friend…
Thimbleweed Park – €19.99 / £14.99 / CHF 19.00
Welcome to Thimbleweed Park. Population: 80 nutcases. A haunted hotel, an abandoned circus, a burnt-out pillow factory, a dead body pixelating under the bridge, toilets that run on vacuum tubes… you've never visited a place like this before. Five people with nothing in common have been drawn to this rundown, forgotten town. They don't know it yet, but they are all deeply connected. And they're being watched.
…Who is Agent Ray really working for and will she get what they want?
…What does Junior Agent Reyes know about a 20 year old factory fire that he's not saying?
…Will the ghost, Franklin, get to speak to his daughter again?
…Will Ransome the *Beeping* Clown ever become a decent human being?
…Will aspiring game developer Delores abandon her dreams and stick by her family?
…And most importantly: how come no one cares about that dead body?
By the end of a long, strange night in Thimbleweed Park, all of this will be answered — and you'll question everything you thought you knew. In a town like Thimbleweed Park, a dead body is the least of your problems.
DRAGON BALL XENOVERSE 2 – €59.99 / £54.99 / CHF 69.90
DRAGON BALL XENOVERSE 2 builds upon the highly popular DRAGON BALL XENOVERSE with enhanced graphics that will further immerse players into the largest and most detailed Dragon Ball world ever developed. DRAGON BALL XENOVERSE 2 for Nintendo Switch includes Nintendo Switch specific features and a different way of playing with your friends locally and online.
We will have reviews for all these games in the coming week, what will you pick up this week?
Demos
DLC;
[Dragon Ball Xenoverse 2] Add-on Content – Various
Sales;
Puyo Puyo Tetris – €31.99 / £27.99 / CHF 44.80
Human Resource Machine – €8.49 / £7.64 / CHF 9.35
Little Inferno – €8.49 / £7.64 / CHF 9.35
World of Goo – €8.49 / £7.64 / CHF 9.35