You can look forward to surviving, shooting and side-scrolling in this week's new releases.

With Sine Mora EX, Yono and the Celestial Elephant and The Flame in the Flood amongst the new titles on the eShop – is there anything for you this week?
Sine Mora EX – €29.99 / £24.99 / CHF 34.00
Sine Mora is a side-scrolling shoot'em up that provides a unique challenge, where time is the ultimate factor. Mixing classic shooter sensibilities with contemporary presentation, Sine Mora is a gorgeous shoot'em up offering both a Story Mode that weaves an over-the-top tale and an Arcade Mode that provides deep, satisfying gameplay to challenge fans of the genre. With many ways to manipulate time, Sine Mora features over 50 weapon combinations to complete each beautiful stage that fits to the player's skills with scaling difficulty. Soundtrack composed by Akira Yamaoka and featuring boss designs by Mahiro Maeda.
---
Tiny Barbarian DX – €29.99 / £26.99 / CHF 42.00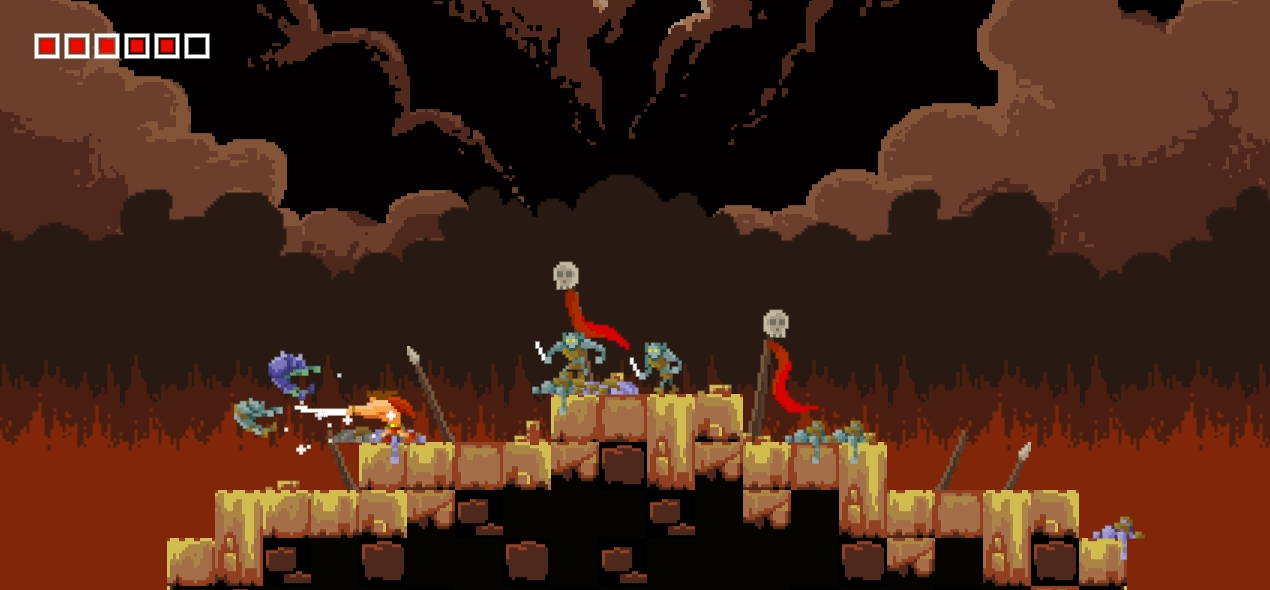 Steel yourself for a relentless display of might and muscle… of brawn and bravery… of magic and mayhem! Can you cleave your enemies' skulls, plunder all the booty and flex to impress the barbarienne of your dreams? Inspired by heroic fantasy fiction, Tiny Barbarian DX combines engaging 2D platform action and combo-based hack-and-slash combat with retro-style pixel art and a loincloth-stirring chiptune soundtrack.
---
UNBOX: Newbie's Adventure – €26.99 / £22.49 / CHF 31.49
The ultimate postal service has arrived – self-delivering cardboard boxes! Unbox: Newbie's Adventure is a unique physics-platformer. Enjoy an epic single player adventure or grab up to four friends for local multiplayer races, battles and challenges! The Global Postal Service is nearing bankruptcy! To save themselves, they have created self-delivering boxes. Play as the GPS' latest cardboard creation, Newbie, as you attempt to save the day. Dress to impress with a massive range of over 40,000 combinations of hats, clothes accessories and funny faces. Explore huge worlds full of challenges, collectibles and boxy boss battles as you compete against the dastardly Wild Cards! Don't be a square! Think outside the box and create your very own cool cube!
---
88 Heroes – 98 Heroes Edition – €29.99 / £29.99 / CHF 42.00
It's 8:08am on 8th August 1988, and the evil Dr. H8 has brought the world to the brink of total annihilation! His demands are simple: pay $88 octillion within 88 minutes, or Dr. H8's 88 thermo-nuclear warheads will wipe out the Earth! But who will save us in our time of need? The bravest? The boldest? No… the 88 Heroes (plus ten of their friends)! Prepare to infiltrate Dr. H8's lair with the help of the strangest, dumbest and most pointless superheroes ever! With 88 levels between you and Dr. H8, only 88 seconds to complete each level and the 88-minute Doomsday clock already ticking, lead 98 unique characters – each with their own special abilities – on a platform-hopping, enemy-smashing, danger-dodging mission to save Earth from complete destruction!
---
Neon Chrome – €14.99 / £12.99 / CHF 14.99
Experience a ruthless top-down cyberpunk shooter and blast your way through enemies and walls. Upgrade, enhance and build up your strength. The path to stopping the Overseer is ever changing. Neon Chrome is a ruthless top-down cyberpunk shooter with rogue-like elements. Blast your way through enemies and walls with guns and cybernetic abilities. Experiment with different roles like the Hacker or the Cyber Psycho. Upgrade your character stats, discover new cybernetic enhancements and build up strength. Every death is a new beginning – the path to stopping the Overseer is never the same.
---
Squareboy vs Bullies: Arena Edition – €4.99 / £4.49 / CHF 7.00
Squareboy vs Bullies is an old school beat 'em up by Rohan Narang that follows the titular Squareboy and his quest for Justice! For far too long the bullies have gone unpunished and with no one else to put them in their place, Squareboy finds himself standing up against them to do what is right, not just for himself, but for everyone the bullies victimized. Will you help Squareboy fight off the Bullies?
---
The Flame In The Flood: Complete Edition – €14.99 / £14.99 / CHF 19.99
The Flame in the Flood: Complete Edition is a wilderness survival game in which a girl and her dog travel on foot and by raft down a procedurally-generated river. Scrounge for resources, craft tools, remedy afflictions, evade the vicious wildlife and, most importantly, stay healthy in a dangerous wilderness. This Complete Edition includes various gameplay enhancements
---
Wulverblade – €16.99 / £14.99 / CHF 23.40
Help Britannia defeat the Romans in Wulverblade – a hardcore side-scrolling beat 'em up inspired by classics such as Golden Axe, Sengoku, and Knights of the Round! Experience a historically accurate storyline across eight campaign levels – or test your skills in the game's deadly arenas. Go it alone or team up with a friend in local two-player co-op. It's time to show the Ninth Legion what you're made of!
---
Yono and the Celestial Elephants – €14.99 / £12.99 / CHF 21.00
Elephants are a mighty protectors of the world, born from the stars once per millennium. This is the age of Elephant Yono. But Yono is still so very young and in a kingdom inhabited by feudal Humans, undead Bonewights and robotic Mekani, it's not easy to keep one's trunk out of trouble. Yono and the Celestial Elephants is a grand adventure, featuring carefully designed puzzles, treasure hunts, a sprinkling of combat and a world full of people. Play as a young elephant tasked to save a world he's never seen before, and explore the rich history of a kingdom where humans, zombies and robots live side by side.
---
Check back for reviews on these games soon! That's not all this week there's also a demo of Oceanhorn – Monster of Uncharted Seas to get stuck into if you so wish!
Demos
Oceanhorn – Monster of Uncharted Seas