It's time to play the game(s)!

It's another bumper week of new releases for the Nintendo Switch eShop this week with 14 games added, and the long-awaited Champions' Ballad DLC pack arriving for The Legend of Zelda: Breath of the Wild. What will you be picking up this week?
---
WWE 2K18 – €69.99 / £54.99 / CHF 75.00 
WWE 2K18 Digital Deluxe – €89.99 / £79.99 / CHF 100.00
Finally, WWE video games are back on Nintendo platforms with WWE 2K18, available for the first time EVER on Nintendo Switch! Featuring cover Superstar Seth Rollins, WWE 2K18 promises to bring you closer to the ring than ever before with hard-hitting action, drama, excitement, new game modes, additional match types, deep creation capabilities, and everything you've come to love from WWE 2K. The best part is, the action never stops on Nintendo Switch, and you can enjoy WWE 2K18 at home, on-the-go, anywhere!
---
Nine Parchments – €19.99 / £17.99 / CHF 28.00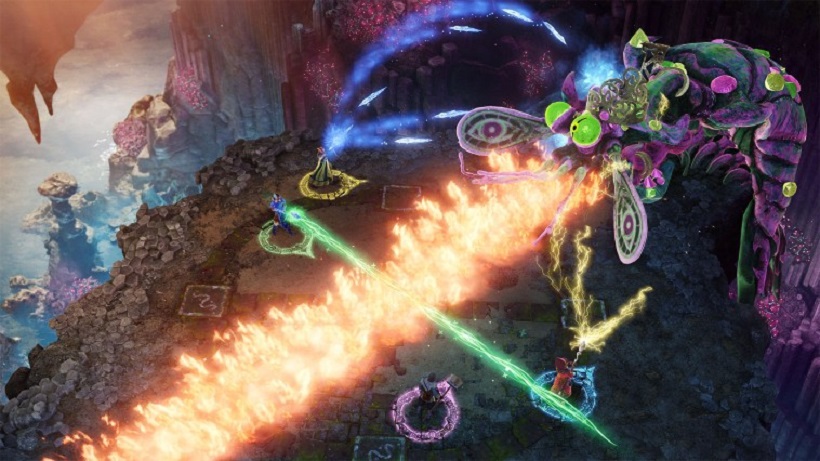 Nine Parchments is a co-operative blast'em up game of magical mayhem from Frozenbyte, creators of the Trine series!
Runaway apprentice wizards seize the opportunity to complete their spellbooks by going after the lost Nine Parchments.
As the would-be wizards rapidly acquire powerful new spells without learning proper safety measures, it's natural their hasty progress results in plenty of deadly accidents…
---
The Sexy Brutale – €19.99 / £17.99 / CHF 28.00
The Sexy Brutale, a never-ending masked ball featuring intrigue, murder and the quite possibly occult. Relive the same mysterious and murderous masked ball as the story unfolds in real-time. You must find answers to every enigma and end the loop, to save all guests' lives as well as your own.
---
Caveman Warriors – €9.74 / £8.76 / CHF 13.65 until 28/12/2017, 23:59 local time (Regular price €12.99 / £11.69 / CHF 18.20)
Jump back in time and free your inner caveman. Play solo or team up with up to 4 players.
Choose one of the playable characters, but don't worry! You can change your character at anytime in the game and play with them all! Play solo, with one, two or three friends. Work together to become unstoppable! Each level has different enemies, watch out as they can catch you unguarded. Unlock secret levels inside the game for more excitement! Challenge yourself to unlock all the achievements!
---
Dimension Drive – €12.99 / £11.99 / CHF 17.99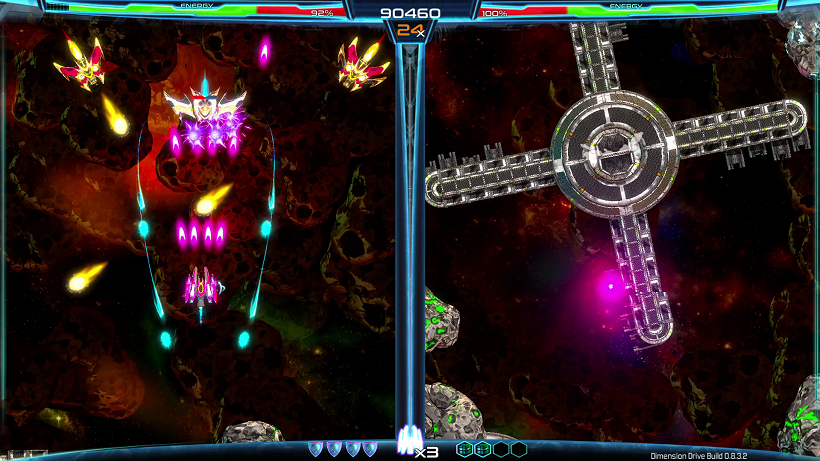 Dimension Drive is a space shooter that challenges your skills in entirely new ways. Play two games at once on this dual battlefield madness set in a comic book universe!
Dimension Drive is a Dual-Battlefield space shooter with a teleportation mechanic. It seamlessly combines shooting and puzzle mechanics. Dimension Drive will teleport you into a comic book styled sci-fi space opera set in a multidimensional universe. The Ashajuls, a cruel multidimensional alien race, are attacking our universe. Fight as Jackelyne Tywood (a.k.a. Jack) in The Manticore, a legendary ship capable of teleporting across space and dimensions. Uncover the mysteries of your past and the origin of the Dimension Drives with your trusty friend and A.I., "V.E.R.A.", at your side
---
Embers of Mirrim – €16.99 / £15.29 / CHF 23.80 (Demo Available)
To save their world from an alien threat, two proud races must set aside their differences and come together… literally. Embers of Mirrim is an adventure-platformer featuring a mystical creature with the ability to split into light and dark embers, each independently controlled by the analog sticks.
---
GUNBIRD for Nintendo Switch – €6.99 / £6.99 / CHF 9.99
Who called "GUNBIRD (Adventurer of the sky)".
In the 19th century Europe, five GUNBIRDs are challenging. They keep each wish to themselves and collect "A magic mirror of Atra". Finally, whose wish will be granted with the power of mirror? It depends on your playing skill…
All players can enjoy 1st round and senior player will be satisfied with 2nd round too.
THIS IS THE "Psikyo's GUNBIRD"!!
Let's say "GUNBIRD"!!!!
---
Human: Fall Flat – €14.99 / £14.99 / CHF 21.00
Bob is just a normal human with no superpowers, but given the right tools he can do a lot. Misuse the tools and he can do even more!
The world of Human: Fall Flat features advanced physics and innovative controls that cater for a wide range of challenges. Bob's dreams of falling are riddled with puzzles to solve and distractions to experiment with for hilarious results. The worlds may be fantastical, but the laws of physics are very real.
Will you try to open that mysterious door, or would you rather see how far you can throw a speaker set out that window?
---
Phantom Breaker: Battle Grounds Overdrive – €7.99 / £7.00 / CHF 11.00
A spinoff to the fighting game "Phantom Breaker", "Phantom Breaker: Battle Grounds" is a cooperative action game for up to four players. Cute versions of the series' characters dash around the screen in this action-packed title. Defeat enemies to raise your characters' levels and freely assign skills to your liking. Also enjoy head to head fights in the Battleground mode.
---
Riptide GP: Renegade – €9.99 / £9.99 / CHF 10.00
Experience the future of illicit hydrojet racing, where armored riders kick out death-defying stunts over massive waterfalls, dodge cops through public waterways, and boost at breakneck speeds across surging waves.
You are a hydrojet rider, framed and cast out from the Riptide GP league, forced to race illegally through city waterways, flooded ruins, and churning factory machinery in an effort to reclaim your reputation and your title. Play through the single-player career to unlock new vehicles, playable characters, and customization features as you take down bosses and build your crew.
---
Teslagrad – €13.49/ £12.14 / CHF 18.90 until 28/12/2017, 23:59 local time (Regular price €14.99 / £13.49 / CHF 21.00)
Discover the secrets kept in the long abandoned Tesla Tower!
Magnetism and other electromagnetic powers will help you explore a non-linear world of beautiful hand-drawn environments, in a steampunk-inspired vision of old Europe. A young boy suddenly finds himself embroiled in a long-forgotten conspiracy, involving a despotic king who rules the nation with an iron fist. Jump into an outstanding adventure told through voiceless storytelling, writing your own part. Armed with ancient Teslamancer technology and your own ingenuity and creativity, your path lies through the decrepit Tesla Tower and beyond.
---
Vostok Inc. – €14.99 / £12.99 / CHF 21.00
Do you love money? You're the newly appointed CEO of Vostok Inc. As a greedy, space-capitalist your ultimate goal is to make as much as you can.
Raise some start-up capital by twin-stick blasting enemies, asteroids and anything else that gets in your way; then embrace your new-found quest for moolah as you colonise, explore and exploit over 40 planets across 6 unique solar systems. Harvest planetary resources and rescue executives to multiply your profit margin, all while you stay blissfully entertained with a whole host of captivating retro mini-games that will keep you coming back for more.
Battle your way through each new solar system, take down evil bosses, enjoy a thumping customisable synth soundtrack, then kick back, relax and let the moolah roll in, to make you filthy, stinking, rich!
---
Yōdanji – €4.99 / £4.49 / CHF 7.00
Get the ability to summon and trap yōkai – numerous spirits that have been living hidden among us until now! Admire them, give them witty nicknames, and then put them in the brutal ever-changing dungeon to summon even more yōkai! Spooky cute graphics and powders made from various body parts included.
---
Tennis in the Face – €4.99 / £4.49 / CHF 5.99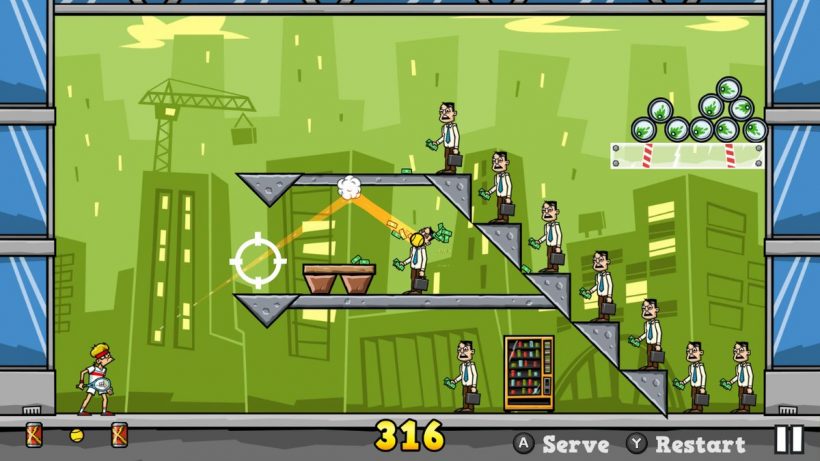 This is no Wimbledon, this is Tennis in the Face! Get ready for some hilarious ragdoll-smashing ball-bouncing action!
Help former tennis star Pete Pagassi save the city from an evil energy drink corporation Explodz. Knock out creepy clowns, corrupt riot police and other Explodz-addicted maniacs with a tennis ball in the face. Bounce the ball off walls to reach targets lurking in cover and watch them tumble hilariously. Trigger masterful chain reactions and watch the chaos unfold.
Win levels to move to the next district and towards your ultimate goal: The destruction of Explodz mega-factory. Try to earn a crown from each level!
---
LOST SPHEAR Demo – Free
The adventure of LOST SPHEAR begins in a remote town of Elgarthe where a young boy, Kanata, awakens from a devastating dream to find his hometown disappearing.
Facing an ominous power that threatens the fabric of reality he must awaken the power of Memory to restore the 'LOST'.
To stop the world from disappearing forever, Kanata and his comrades set out to rebuild the world mustering different Memory and crafting the world around them.
---
Pre-Orders
Mutant Mudds Collection – €12.99 / £10.99 / CHF 18.20
Yooka-Laylee – €39.99 / £34.99 / CHF 56.00
DLC
WWE 2K18 Season Pass – €29.99 / £24.99 / CHF 30.00
WWE 2K18 Accelerator – €4.99 / £3.99 / CHF 5.10
WWE 2K18 Cena (Nuff) Pack – €7.99 / £6.79 / CHF 8.10
WWE 2K18 MyPLAYER Kick Start – €9.99 / £7.99 / CHF 10.20
WWE 2K18 Kurt Angle Pack – Free (until 13/12/2017, 23:59 local time, Regular price €4,99 / £3.99 / CHF 5.10)
Sales
The Jackbox Party Pack 2 – €14.69 / £13.29 / CHF 20.65 until 14/12/2017, 23:59 local time (Regular price €20.99 / £18.99 / CHF 29.50)
What will you be picking up? Let us know in the comments!