New year, new… games
---
Well folks, it's a brand new year – here's hoping it's a great one for the Switch! To combat the January blues, take a look at the below new releases on the Switch eShop this week.
---
Grand Prix Rock 'N Racing – €7,99 / £7.19 / CHF 11,2
Get ready for some speed with your family and friends!
Grand Prix Rock 'N Racing gives you the fastest, most exciting races. You can evolve your car, improving the engine, brakes, tires and more until you've achieved the perfect evolution to win the Championship!
Online leaderboard where you can compare your best times with those of your friends and players from around the world.
---
NBA Playgrounds – Enhanced Edition – Launch Price €9,99 / £8.99 / CHF 14 (Regular Price €19,99 / £17.99 / CHF 28)
Classic NBA arcade action is back! Take your "A" game to the playground and beat the best in high-flying 2-on-2 basketball action. Practice your skills offline, play with up to three others, or take your talents online to posterize your opponents with acrobatic jams and ridiculous displays of skill. Collect your favourite players from a massive roster of current and retired NBA superstars from every team. Travel to playgrounds across the globe to compete in online matches against the very best with your massive arsenal of dunks and moves. Use your fine-tuned skills to take on the master of the playground himself – Allen Iverson.
---
Pic-a-Pix Deluxe – €7,99 / £6.99 / CHF 9,99
Pic-a-Pix are exciting logic puzzles that form whimsical pixel-art pictures when solved. Pic-a-Pix are sometimes known by other names, such as Picross, Nonogram, Paint by Numbers, Griddlers, Hanjie and many more. Solve puzzles with a friend – or the whole family – with co-op play for up to 4 players using any combination of controllers! In handheld mode, immerse yourself with intuitive touchscreen controls. Content previously available in Pic-a-Pix Colour on Nintendo 3DS and Wii U can be downloaded as DLC, and extra add-on packs will be released regularly.
---
ACA NEOGEO KING OF THE MONSTERS – €6,99 / £6.29 / CHF 9,8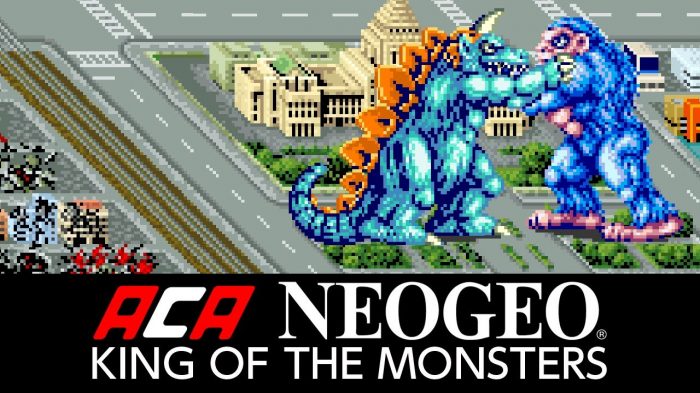 "KING OF THE MONSTERS" is an action game released by SNK in 1991.
Players choose from one of the six monsters available, and battle their way across Japan in order to claim the title of strongest monster.
In addition to normal attacks such as punches and kicks, master more destructive techniques such as flame and beam attacks to overcome the enemies.
---
And that's all, folks! A fairly quiet week, all things considered. Will you be picking up any of these titles?