Surprise Direct throws a few new games our way
Hands up everyone who really expected a Nintendo Direct this week! Despite the tweets on social media and the teasing, Nintendo never actually confirmed we'd see one of their trademark reveal broadcasts. Instead, the internet went into near meltdown, especially over the last couple of days so it was a little surprising when seemingly out of nowhere it began yesterday! If you haven't yet seen it, here it is for your viewing pleasure!
Clocking in under 15 minutes, the diminutive video sure packed a few things in, filling us in with what we can expect over the next six months or so, with SEVEN new game announcements and more than a couple of cover ideas for Switch Player Magazine! Without further ado, here's the highlights.
Dark Souls Remastered
Ever since their name was first seen on that infamous slide, rumours have abounded that FromSoftware's Dark Souls Trilogy could be inbound for the Switch, and today we received confirmation that at least the first of these brutally challenging action RPG titles would be getting the remaster treatment for the Switch. Slated to arrive on May 25th, Dark Souls: Remastered is sure to test many a Joy-Con!
Mario Tennis Aces
I was wondering to myself when the flurry of Nintendo-themed sports titles would begin to arrive, so it's not really surprising to see Mario Tennis Aces in the line-up. Set to release in the Spring (which could be anywhere up to June, really…) it features the typical tennis-based shenanigans you'd expect along with a story mode, which hasn't been seen in a Mario Tennis title since Power Tour on the GBA.
Donkey Kong Country: Tropical Freeze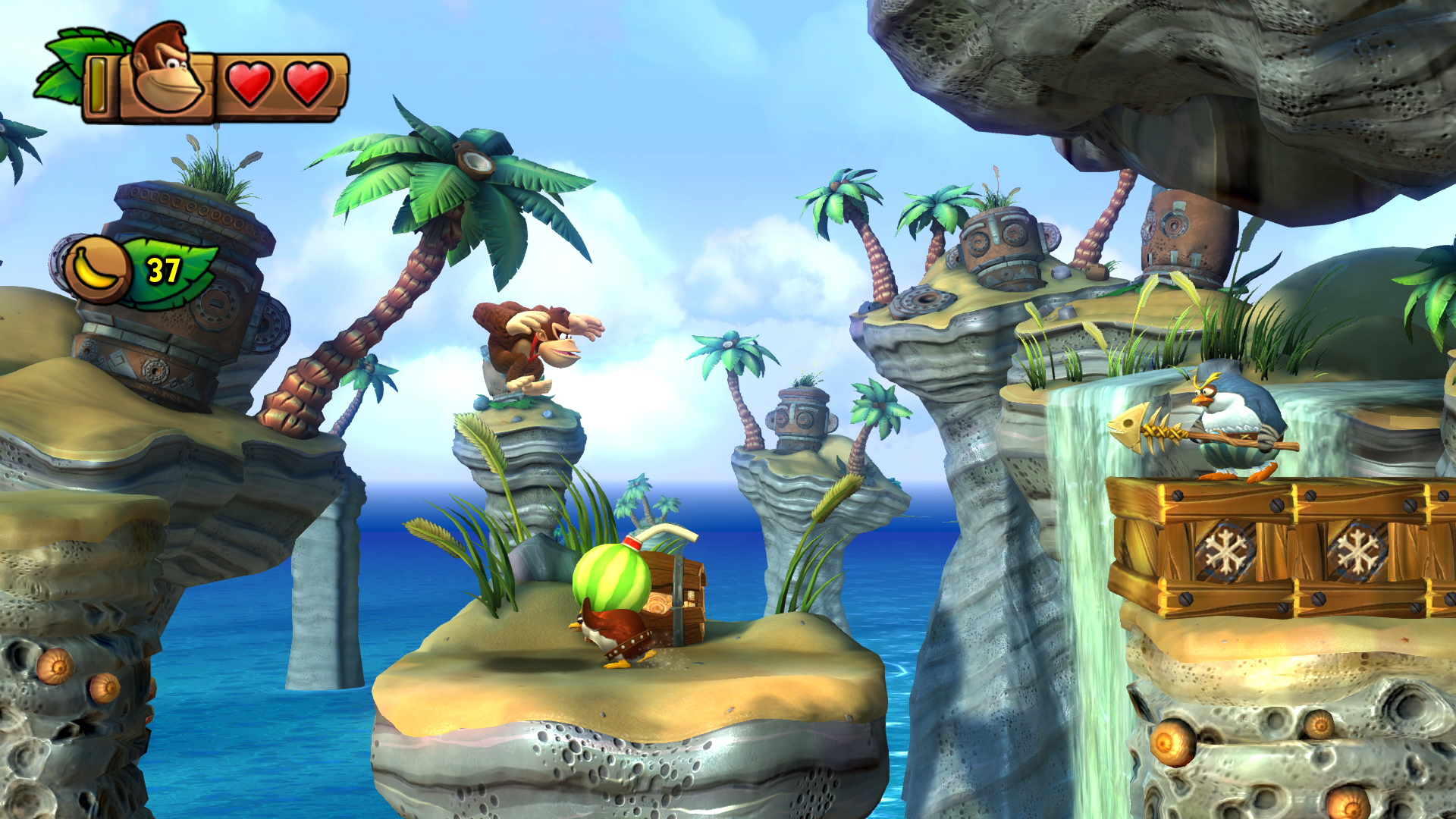 Yay! It's another Wii U port (which I can see being a staple since a lot of people didn't buy a Wii U) and for Donkey Kong Country: Tropical Freeze's Switch appearance it brings a new character to the fore in the form of Funky Kong, a groovy surfer simian who joins Donkey Kong, Diddy Kong, Dixie Kong and Cranky Kong on their adventure across hazardous islands packed with secrets.
Hyrule Warriors: Definitive Edition
Another Wii U port and another one of those "Spring" windows, this Deluxe Edition of Hyrule Warriors fuses every character from the Wii U and 3DS editions of the game (29 characters in total) and presents them in 1080p visuals (docked obviously) with a two-player mode as you cut through legions of enemies in the typically over-the-top style that Dynasty Warriors is renowned for. Only Zelda-flavoured, and with some special Breath of the Wild outfits for Link and Zelda.
The World Ends with You – Final Remix –
It's another Wii U Port, this time for the classic DS title The World Ends with You which released in 2008 to critical acclaim. The main character, Neku finds himself up a smelly creek without a paddle when he meets the mysterious Shiki and has to complete a series of twisted rhythmic battles! With touch-based controls or Joy-Con inputs, this action-RPG also packs a new scenario for the Switch release!
SNK HEROINES Tag Team Frenzy

Launching in the "Summer", SNK HERONINES Tag Team Frenzy takes some fan-favourite female fighters from SNK titles and throws them into a 2v2 tag team fighter, where moves can be activated at the press of a button. Changing character scan get you the upper hand in battles and the game features a level of customisation where you can show everyone what you are made of!
Ys VIII: Lacrimosa of DANA
Another game slated for the Summer, Ys VIII: Lacrimosa of DANA tells the story of Adol, who finds himself on a deserted island after his ship sank. By gathering survivors and building a base, you'll need to attack and defend from a variety of viscous creatures which have evolved on the island and will need a variety of attacks to best.
Kirby Star Allies
We already knew this was coming, but now we know when; March 16th. Arriving in HD on the Switch, Kirby isn't alone and can recruit enemies by hitting them with hearts, growing an army of helpers for up to four players for a different kind of team up! By using new abilities like copy and artist or ensnare them with the Spider ability as you bid to save Dream Land form powerful enemies. Again.
As well as those announcements, we also got told a few other things. As well as release dates for Celeste (January 25th), Fe (February 16th) and PayDay 2 (February 23rd) there were a few announcements for existing titles which are set to receive some additional content.
Super Mario Odyssey
In February, Super Mario Odyssey will see a free update in the form of Luigi's Balloon World. The idea behind it is that you can either hide – or seek – balloons within 30 seconds across the existing kingdoms and compare you progress with others via leaderboards. Mastery of every nook and cranny of Odyssey's world will be essential! On top of that, three new outfits will become available, with a musician's suit, a suit of armour and a sunshine outfit!
Pokkén Tournament DX
If the additional characters added into the Switch version of Pokkén Tournament weren't enough for you then the Battle Pack might just be for you. Split into two waves (and available to purchase now) the first pack is set to hit on January 31st and will throw Aegislash into the fray as a playable Battle Pokémon, with the combination of Mega Rayquaza and Mimikyu as a brand-new support set. The second wave will arrive on March 23rd, and boasts Blastoise as the new Battle Pokémon, with Mew and Celebi arriving in the support role.
Mario + Rabbids Kingdom Battle
Mario + Rabbids Kingdom Battle was one of the surprise hits from last year, and we loved it and cannot get enough of the tactical turn-based strategy title. Luckily for us then that in the Spring we will see new DLC arrive, with Donkey Kong swinging in as a playable character!
So those were the Direct Mini's highlights! What did you make of the Direct? What was your highlight? Let us know in the comments!