Dungeons and Tiny Planets.
We've got another hefty week in store for the Switch's eShop, with a plethora of titles hitting the system this week – enjoy!
---
Darkest Dungeon – € 21.99 /CHF 25.99
Darkest Dungeon is a challenging gothic roguelike turn-based RPG about the psychological stresses of adventuring.
Recruit, train, and lead a team of flawed heroes through twisted forests, forgotten warrens, ruined crypts, and beyond. You'll battle not only unimaginable foes, but stress, famine, disease, and the ever-encroaching dark. Uncover strange mysteries, and pit the heroes against an array of fearsome monsters with an innovative strategic turn-based combat system.
Features:
The Affliction System – battle not only monsters, but stress! Contend with paranoia, masochism, fear, irrationality, and a host of gameplay-meaningful quirks!
Striking hand-drawn gothic crowquill art style
Innovative turn-based combat pits you against a host of diabolical monsters
Narration system to celebrate your successes…and failures
16 (and counting!) playable hero classes, including Plague Doctor, Hellion, and even the Leper!
Camp to heal wounds or deliver inspiring speeches.
Rest your weary, shell-shocked characters in town at the Tavern or the Abbey to keep their stress in check.
Classic CRPG and roguelike features, including character permadeath, procedural dungeons, and incredible replay
Can you stem the tide of eldritch horrors erupting across your family's ancestral estate?
---
Picross e8 – € 5.00 /CHF 7.00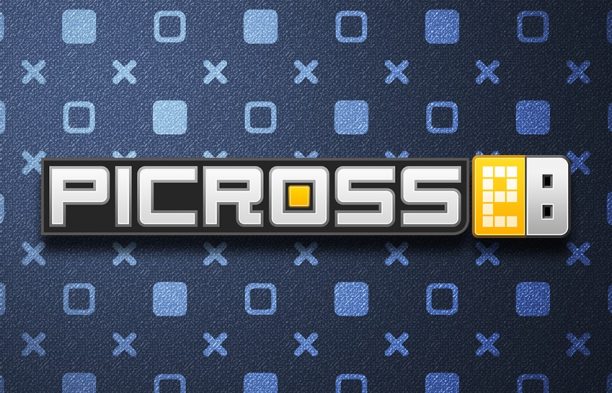 The 8th game in the Picross e series! It retains all the functions of Picross e7, with all-new puzzles. Enjoy Picross in a comfortable play environment refined from all the previous series. Picross is a ""Picture Crossword Puzzle Game"" where numbers act as hints to complete images. The rules are simple and easy to grasp. Anyone can do it!
---
Gunhouse – € 12.99 /CHF 18.20
Load your guns! Rain death from above! Protect your valuable orphans! Defeat giant, improbable bosses! Gunhouse is part puzzle, part active tower defense, as you make big combos to launch a hail of bullets and special attacks at the alien invaders who would like nothing better than to consume your delicious orphan friends. With infinite levels (you can play this *for ever*), upgradeable weapons, hardcore mode, a unique art style, and music by Fez composer Disasterpeace, Gunhouse from Necrosoft Games will entertain the heck right out of you, maybe!
Featuring:
• Puzzles!
• Tower Defense!
• Weapon upgrades!
• Infinite levels!
• Weird bosses!
---
Energy Balance – € 2.99 /CHF 4.20
During a mission your spaceship encounters an unknown anomaly and all systems fail. You have to balance the energy in order to get them running again and to get home safely.
Energy Balance is a number puzzle. You have to swap power units in such a way that their sums form correct chains both vertically and horizontally. The game is easy to learn, but very hard to master. So, are you ready to peep under the hood of an alien spaceship?
---
InnerSpace – € 19.99 /CHF 28.00
InnerSpace is an exploration flying game set in the Inverse, a world of inside-out planets with no horizons. Soar through ancient skies and abandoned oceans to discover the lost history of this fading realm, where gods still wander. Your greatest journey is within.
---
Nightmare Boy – € 9.99 /CHF 14.00
This story takes place in Donorok, in the state of Noctum. After the King of Noctum, Aster, disappears, chaos rules over the world. The relationships between Monsters, Mongos and Dreamers are completely unstable, and Donorok – the land so heavily affected by the chaos – slowly absorbs terrain from the surrounding regions.
---
Tales of the Tiny Planet – € 19.99 /CHF 27.99
«Tales of the Tiny Planet» tells the story of a Planet searching through the galaxies for his lost friends. You have the ability to manipulate the world elements to guide him safely through the galaxies in this Physics-Puzzle-Adventure. Will the missing planet be behind the next portal? Find out, Beat the high-score or compete with your friends in this new Physics-Puzzle!
One button controls everything – Think that it's simple?
Use one button to control a group of complex mechanisms. The timing of the button press must be precise to carry the planet through the portal to the next level. Try to beat the levels as fast as possible to collect stars that will unlock more levels. Each world brings new elements, mechanics and surprises. Find out how you can bring all the planet-friends back together!
– Exclusive 2-Player-Mode on Nintendo Switch™!
– 5 lovingly crafted worlds
– 60 varied levels
– Stars and stuff
– Lots of achievements
– Rankings – to compete and overtake your friends
– Infinite vastness and endless joy
---
ACA NEOGEO POWER SPIKES II – € 6.99 /CHF 9.80
"POWER SPIKES II" is a sports game released in 1994 by VIDEO SYSTEM. It features the Hyper Mode where the world's strongest 8 teams compete along with the World Men's and World Women's teams in this futuristic fighting volleyball. In Hyper Mode, commands for special serves and spikes can be input for an intense battle.
The "ACA NEOGEO" series has faithfully reproduced many classic NEOGEO masterpieces.
Players can change various game settings such as game difficulty, and also reproduce the atmosphere of arcade display settings at that time. Players can also compete against each other from all over the world with their high scores.
---
Ambition of the Slimes – € 5.00 /CHF 6.70
The weakest monster ever known in gaming history, the "Slime" is finally standing up (?) for its rights!
Slimes are surprisingly versatile – they can use magic, they can multiply, they can use special abilities…but no matter how capable they are, unfortunately, they usually end up bashed into a mush, sometimes not even by the protagonist of the game but by a village commoner!
…Now it's time to change things using the ability "Claim". With this ability, slimes are able to take control of their opponents' bodies by jumping into their mouths! Use "Claim" strategically to take over strong enemies and win your battles. As you fight through the levels, unveil the ambitions of the Slime monster… This is possibly the most unexpected underdog-hero fantasy simulation RPG you will ever play!
---
Arcade Archives DOUBLE DRAGON – € 6.99 /CHF 9.80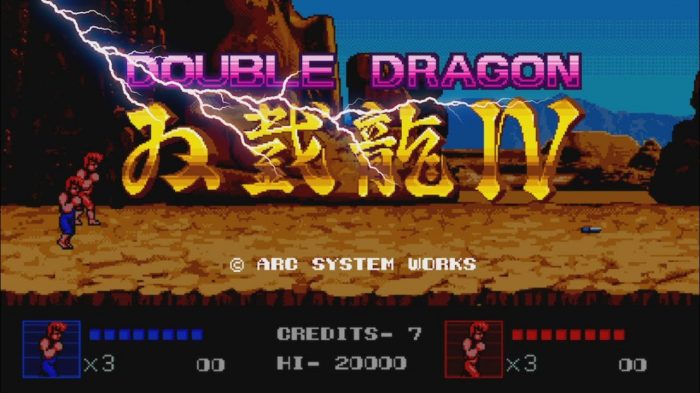 "DOUBLE DRAGON" is an action game that was released from Technos Japan in 1987.
Two brothers fight with evil, to rescue Marian that has been kidnapped by violence organization.
The "Arcade Archives" series has faithfully reproduced many classic Arcade masterpieces.
Players can change various game settings such as game difficulty, and also reproduce the atmosphere of arcade display settings at that time. Players can also compete against each other from all over the world with their high scores.
Oh…Sir! The Hollywood Roast – € 3.49 /CHF 3.00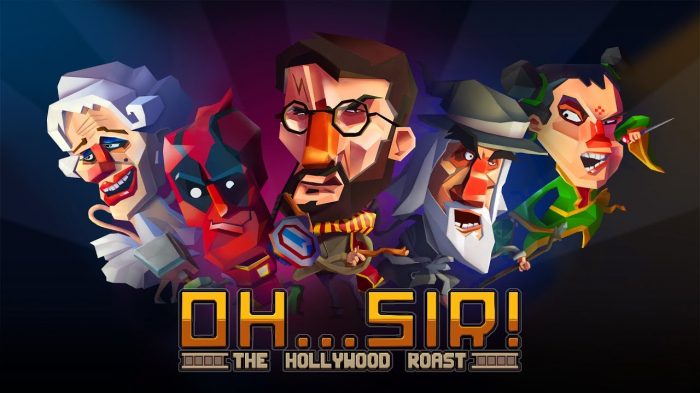 The boys are back, and they look better than ever! Oh…Sir! The Hollywood Roast is a brand new spin-off to the surprise indie hi, Oh…Sir! The Insult Simulator. This time around we're taking tinsel town down a few notches, whilst classing up the joint. Play as one of many famous, but for legal purposes, slightly different pop culture icons and verbally spar with other Hollywood elitists using a deep battle system.
Verbally joust by yourself or take your verbal skills on a global PR tour and battle friends and family from anywhere in the world.
====== Game Features ======
– Unleash the sickest burns on your opponents in a Hollywood-style roast
– Play alone, online or couch multiplayer
– Deeper-than-you-think mechanics featuring combos, continuations and exploiting your rival's weak spots
– A star-studded new cast of crazy Hollywood characters
– Set the scene with a slew of iconic film backdrops
– Bigger, ruder, insultier
– Comeback mechanic – charge your anger and finish the sentence with a unique closure
– Expanded career mode – master each scene to win Golden Parrots and use them to develop your character
---
Oh…Sir! The Insult Simulator – € 2.29 /CHF 2.00
The parrot is back from the dead bringing countless new insults for your disposal, Sir! This is the game that parts lovers, destroys families and turns friends into enemies. And it does even more! And I have proof! You can spread affront to everyone in the world that has Internet access or – if you're not the most sociable – you can sit alone and play with yourself.
So, don't let the parrot die for nothing and tell that grumpy old lady that her husband donated organs for a strange woman lying in a pond and that her sister poses nude for some dog. Then meet a retired hipster who admires pictures of a grunting sow, and a fake Russian who borrowed a dead body to put his teacup and crumpets on. It's also the only game that lets you learn what's The Meaning of Life, and that's scientifically proven!
Game Features:
– Loner's Insult Tournament Mode: Battle your way through numerous unique situations and verbally assault your CPU
– Real-Life Friends Mode: Dual against your actual friends on a couch, ottoman, or whatever else you like to rest on
– Imaginary-Friends Mode: Verbally take down strangers from all over the world online
– 5 Hilarious Playable Characters: Each with their own unique voices, quirky traits and hilarious "insult bits"
– 4 Conflict Scenarios: Lay down some verbal jujitsu across 4 different testy situations and dynamic environments
– Contentious Battle System: Employ combos, criticals, continuations and other new mechanics to outwit your argumentative opponents!
---
Qbik – € 4.99 /CHF 6.99
In the beginning there was a dot, levitating in white nothingness. Eons have passed and nothing has changed, but the power of creation was slowly stirring within the dot. And this is how the adventure begins!
Qbik is a beautifully designed pixel-art puzzle game. Enter the world of Qbik and explore a square land full of brainteasers, puzzles, and riddles – traverse all 63 levels and discover the origin story of this square little fella!
But that's not all, folks! Qbik gives you the ability to make your own cave in the Level Editor!
Use every brain cell you have to help Qbik navigate the caves. Dodge deadly traps and use technology in your favor so you can eat every yellow block (hopefully they're gluten free!) and move forward into the unknown!
Features
-Pixel art graphic design
-Story to discover
-63 levels to explore
-Level Editor
---
Rally Racers – € 9.99 /CHF 14.00
Where road rage becomes raging fun!
Wacky cartoon racing at its best, Rally Racers is an action packed family racing game that's fast and furious fun for all. Cars bash and battle each other to racing glory, picking up special weapons, boosts, recruiting race mates from the opposition team, performing stunts and completing challenges to be first over the finish line. A race of good versus evil as you take on bad guys intent on taking you out! You're going to need all the help you can get, so put your game face on and lure them over to your side, turning them before they turn you over. They want your team as much as you want theirs, so watch your back. A friendly teammate one minute could be attacking you with weapons the next. Collect enchanted fruits to unlock and bring them back on side and gather all the golden balls to reach the end of each quest. It's high-speed hijinks at its very best! There are seven racing worlds to conquer on your quest. Each contains different challenges and awards, and prizes are given out as you progress. Win the gold cups at the end of each world race, collecting them all to qualify for a better and badder car!
Hone racing skills and tricks of the trade in the tutorial before getting on with beating the bad guys on each track.
Find and collect secret hidden fruit, upgrade cars, perform point-scoring stunts, shoot the bad guys, choose in-game partners based on their specific skill sets, turn the bad guys good and complete action packed challenges in each level to win.
Bash, battle, crash and stash your way to glory with Rally Racers.
---
World to the West – € 19.99 /CHF 28.00
A teleportation-mishap, a broken contract, a mysterious tree and a foolhardy expedition set the stage for our four heroes. Follow Lumina, Teri, Knaus and Clonington on a rip-roaring adventure full of twists and turns through the World to the West! A young Teslamancer, an optimistic underdog, a seasoned explorer and a strongman aristocrat out of his depth find themselves flung into an adventure none of them signed up for. In a land that holds secrets best left forgotten, the four heroes must use their unique abilities to find glory, get revenge, and for some, simply find a way home.
World to the West is focused around, exploration, action and environmental puzzles, often with many different solutions depending on the character you play and your ability to think creatively around their abilities. This adventure of fantastical science lets you play as four different and unique characters. the story is that of their tales, and the grand mystery of this lost land that shrouds an ancient danger.
---
Baseball Riot – € 4.99 /CHF 5.99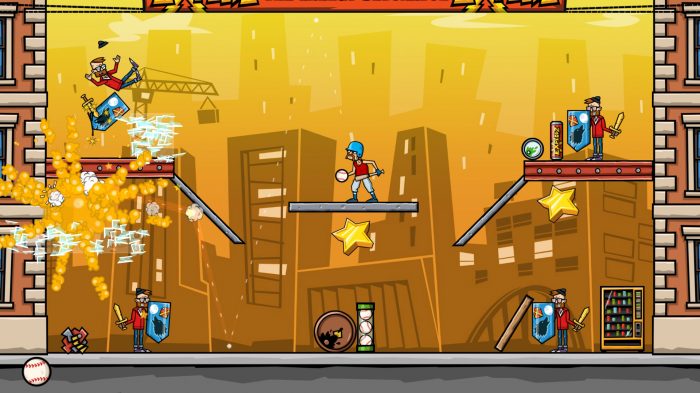 Help Gabe Carpaccio take vengeance on the unholy alliance of his former team and a corrupt energy drink manufacturer Explodz Inc.!
Baseball Riot is a fun physics-based puzzle game packed with slapstick comedy and mayhem! Take control of retired star batter Gabe Carpaccio as he goes on a crusade to free his former team from the grasp of Explodz Inc. Smash baseballs at various Explodz-fuelled goons such as obnoxious fans, biased umpires, leery catchers and more. Bounce the ball of walls and platforms to knock out many targets with one hit. Detonate Explodz crates to launch the baddies sky high! See the enemies tumble as hapless ragdolls and try to master each level by collecting three stars. Conquer more than 100 levels and save the day!
FEATURES
– Easy to learn physics-based puzzle gameplay
– Funny knockouts with ragdoll characters
– More than 100 levels
– Explosive chain reactions and destructible items
---
Brawl – € 9.99 /CHF 12.50
Step into the darkness of The Emporium with 8 unique characters, each with a rich back story and a surprising plot-twist. Fight your way to the end using different play styles, from pure brutality as a Wrestler to hiding in shadows as an elusive Thief.
Play with up to 4 players on Multiplayer Mode with 20+ interactive maps. Fight against your opponents and environmental hazards in 5 game modes, featuring Sumo, Color Domination and Classic Brawl. Team up with a friend and take a challenge on 3 different Challenge Modes. Use powerups to upgrade your bombs and be even more powerful than usual.
---
Nuclien – € 3.49 /CHF 3.99
Welcome to Nuclien. It will test you. It will push you. It may break you. And if you're like me, you'll get really, really into it." – Kirk Hamilton, Kotaku.
Count as fast as you can in this mind-splitting game that forces you to locate numbers as fast as possible, and flip your perspective backwards and forwards at an almost impossible rate!
The new universe is about to begin. In this empty void, there is nothing. All that remains is for the DNA architect to successfully sequence the DNA that will become the origin of everything that exists…
Nuclien takes a simple concept and turns it into an addictive and challenging experience. Race against the clock to find the numbers in their correct order by counting up, down or even doing both at the same time!
Features:
· 77 stages of hyper-challenging reaction based action!
· 6 modes of play.
· Music and visuals merge to create an interactive musical landscape that lets players get lost in the experience.
---
Vesta – Launch Price € 12.74 /CHF 17.85 (Regular price € 14.99 /CHF 21.00)
Vesta is a witty 6-year-old girl who lives in a desolate underground maze – the ruins of a once-bright city inhabited by humans and perfect machines. Although this world can be lonely, she is kept company by her friend BOT. It advises her and encourages her to do the tasks she is assigned, although it knows much more than it lets on. In order to survive in this passive yet hostile environment, BOT will give Vesta a real helper – DROID. He may be a bit rough around the edges, but he'll handle physical tasks that would be impossible for a fully grown adult, let alone a little girl. Besides, he is the perfect weapon to defend against the dangers lurking in the remains of this abandoned complex.
Join Vesta as she explores various environments over 36 levels full of obstacles and enemy robots. She'll need her brains and DROID's power to traverse this varied landscape, properly manage the little energy left in the complex, solve the numerous puzzles she finds in her path, and even fight to survive. But most of all she will need to discover the truth of this story.
---
And that's it for this week! Quite a busy one. Anything here tickle your fancy? Let us know what you're purchasing!