Match titles to reveal the beauty hiding behind.
Enchanting Mahjong Match is, as the title may suggest, a video game about matching Mahjong tiles in a similar vein to Mahjong Solitaire. The reward for doing this is of course artwork featuring beautiful women each with the name of an ancient Chinese constellation.
The twist with this title though is that in order to match tiles you must do so by drawing a line which can not change direction more than twice. With a number of different tiles that all need to be matched up and others that have special requirements such as requiring keys to be matched first. These all add a level of depth and strategy to the otherwise standard gameplay formula which creates gameplay that is a challenge as much as it is engaging.
---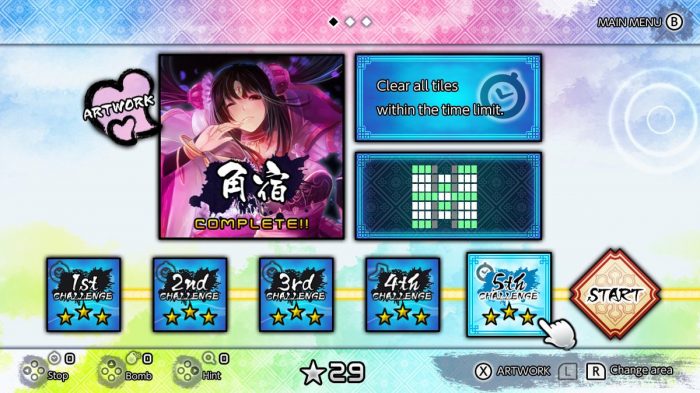 ---
Players will need to act quickly as each of the 140 levels included in the title are against the clock with the odd few levels offer move limits and other goal requirements. Every match you successful make we add a small amount of time back onto the clock but it is a punishing race. The faster you clear a level the more stars you will earn which in turn, allow you to remove more of the blocks on the artwork you are working so hard to view.
To aid in the challenge are a number of special items which can be used to stop the clock, clear a number of tiles and even give you a hint or two. The trouble is these are not given to you so easily so make sure to save them for when you really need to make use of their helpful powers. Thankfully though you are free to replay levels as many times as you wish to ensure you can always try again to earn those three stars. Once you have earned all the stars in a stage, you can view the beautiful artwork as a reward.
Now it is worth noting that, unlike many other tiles like this, the artwork you will view in Enchanting Mahjong Match is completely safe for work. Sure, there is a bit of skin showing and the size of some body parts may raise some eyebrows but nothing here is adult rated.
---
---
As for playing the title, though Enchanting Mahjong Match offers both controller and touch screen options when it comes to playing, the timer is so punishing that playing anyway other than touch controllers feels wrong. Moving the cursor along the screen to match tiles is fully functional with buttons allowing you to speed up the movement as well. It is then a shame that with such a fast countdown that you will not be able to earn three stars by using a controller, not without some real challenges. Touch controls on the other, though once again are functional, feel a cramped due to the screen size of the Nintendo Switch.
In all though, Enchanting Mahjong Match is a solid title that offers fun and challenge with the addition of some nice artwork and solid performance. The titles only real problems are the punishing timer that limits the option to play with a controller and the titles repetitive nature. Though repetitive by design, Enchanting Mahjong Match is an engaging title should you be able to overcome its shortfalls.
Summary
Enchanting Mahjong Match might be a repetitive title by design but even with the flaws it has the title still holds up as an engaging puzzler for the Nintendo Switch.