Black Friday,  but no crazy deals in sight
Originally released in 2016, narrative-driven adventure drama 1979 Revolution: Black Friday gained many accolades for applying the Telltale-esque modern-day adventure game formula to a real historical event, the Iranian revolution, experienced first-hand by director Navid Khonsari in his youth. The game is educational, and is a nice diversion from high-fantasy fiction, but from a gameplay standpoint it pales in comparison to its Walking Dead predecessors.
---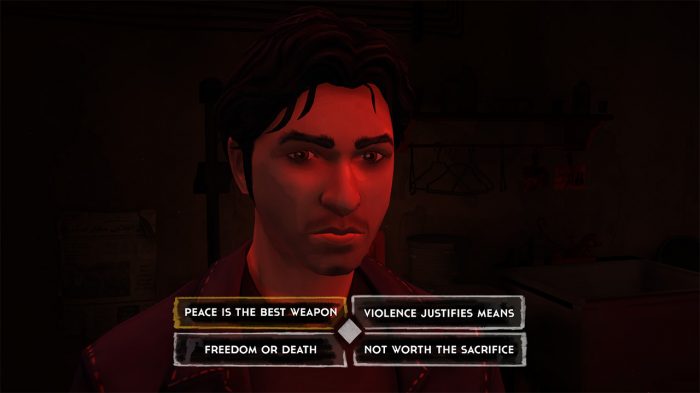 ---
1979 Revolution: Black Friday tells the story of Reza, a photographer caught up in the Iranian revolution. Interacting with different camps of protesters as well as conflicting family members, players must decide whether to take peaceful or violent movements throughout the narrative, shaping consequences that form later on.
Again, derivative of the Telltale Gamesformula that is at this point almost its own sub-genre, Black Friday reminds me of season one Walking Dead. In 2018, when compared to the most recent Telltale release, their final TWD season, the this two-year-old port shows its age quite strikingly.
Black Friday also features a similar scrapbook system from Ubisoft's WW1 game Valiant Hearts, a mechanic that educates you about the history, establishing pivotal moments in the plot as fully interactive set-pieces. Walking amongst the Tehran protests, you'll learn not only about the historical oppression faced from the Shah at the time but also interesting tidbits about Iranian culture, all accessible in an archive that can be pulled up at any moment. Not that it isn't already interesting enough, but the game does a good job of incentivising the player by making the discoveries almost collectible.
---
---
Black Friday has a good variety of dialogue options, but it can feel superfluous when the game wants you to react in a certain way, with your choices in one scene literally getting you killed and forcing to retry. It's an interesting departure having to use diplomacy and restraint to get you through a situation over speaking your mind the entire time, but isn't agency the point of these narrative games? The final screen shows some of your biggest decisions in the story, but without going into spoilers, most of them don't have payoffs or consequences, and perhaps this is due to the game being singular rather than episodic, as it does seem to end abruptly.
Performance is also an issue on the Switch hardware. Particularly in the populated, crowd scenes the frame-rate was very choppy, and the graphics feel bland and muddy compared to The Walking Dead's final season. 

---
---
1979 isn't on the same level as the games it's inspired by, and with the Telltale catalogue making its way to Switch hardware, there are better narrative-driven games to choose from. That being said, those games don't offer any historical or educational sustenance, which gives 1979 a unique quality. It succeeds with 'moral ambiguity', placing you in a family with different views and showing the difficulty of living in Iran at the time. Reza is swept up in a revolution and must decide what he believes along the way, but no matter your thoughts you can't fight the tide.
1979 Revolution: Black Friday
Summary
1979 Revolution Black Friday is uniquely educational, but from a gameplay perspective it can't compete with a modern Telltale release. There's nothing wrong with that if you're jumping in to experience the story, though the performance makes for a weak port.