Nairi is a girl who is kidnapped from the rich district of town and finds herself befriending the poor in order to make it back to where she came from and depose the thugs who targeted her family in the first place. It sounds like quite a hard-hitting tale when put like that, but in fact this is one for the kids.
Nairi is childlike and innocent, while the characters she meets are all animals, making for a cuteness overload as she makes her way for the Tower of Shirin. The story is told through juxtapositions with the past, both in terms of Nairi's own history and the history of the environments around her, which can serve as clues for the puzzle-solving.
---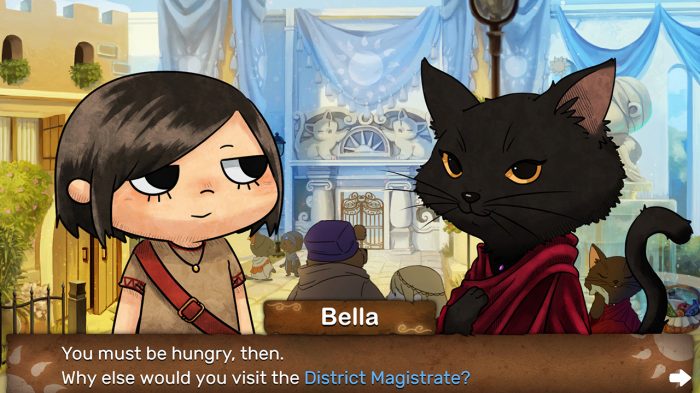 ---
The point and click conventions are present and correct – speak to every character you find to coax out new elements of the story, and get yourself out of trouble by finding items and using them cleverly. See a boarded-up passageway? There's an item for that. Need to fill up a well? Yep, you can see it coming a mile off. Then, there's the puzzles, which are varied and do well to feel a part of the story rather than just shoehorned in like is the case in some other point and click adventures.
While taking in a number of different environments during Nairi's adventure, there is always a linear sense of play to the game. That has good and bad effects here – while it means there's not a lot of long stretches of backtracking in order to find a crucial item, you also never quite feel like you're free to explore the game world, which is rather charming in its hand-drawn form.
---
---
One of the biggest bugbears of the game is just how slow the pacing is. Again tying in with the idea that this is a point and click for younger children, the text, which makes up a significant chunk of this game, can't be rapidly clicked though, and though this is most likely done to ensure that players take in the story, it can be mighty frustrating for more capable readers.
Even so, you're looking at a run time of around two to three hours for the game, notwithstanding if you find yourself in any major trouble when it comes to the puzzles.  But the weighting should have been more in the direction of the gameplay than it is about working your way through the reams of dialogue.
---
---
The big plus? The touch screen can be used, which is a big thing after playing some other Switch games of the same genre which inexplicably missed a trick on that front. But it does suffer from irritating issues with accidentally skipping screens instead of selecting an item.
Nairi is an alright point-and-click – come for the story, but don't come looking for a classic.
Nairi: Tower of Shirin
£8.99
Summary
Nairi: Tower of Shirin has plenty of character, but at times it's so heavy on the slow-moving text that it feels too much like a children's book.