As the Switch's library becomes all the more fleshed out, one genre sticks out amongst the rest in terms of the dearth of options available. Other than the kart racers, realistic racing really is underdone on Nintendo's system.
BigBen Interactive have attempted, once again, to provide the realistic racing simulator that fans have been calling out for. With V Rally 4, TT Isle of Man, and Aqua Motor Racing Utopia among their back catalogue, FIA European Truck Racing Championship is the newest addition, coming in the form of a fully-licensed truck racer.
---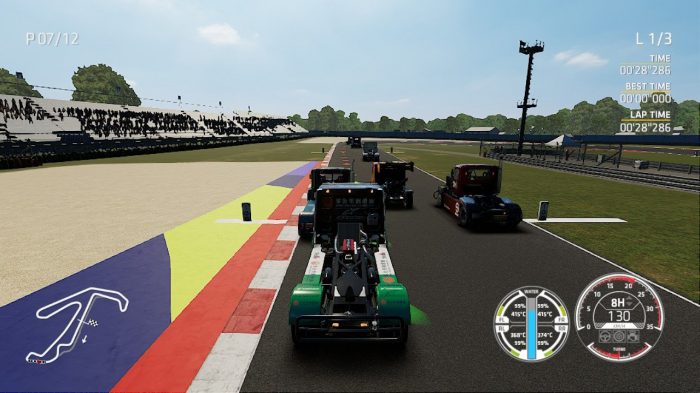 ---
This is a game being sold as more than just a cash and grab on a rather niche sub-genre of racing. For starters, the Career mode begins only once you have obtained your in-game license. Over the course of fifteen trials, you must demonstrate a mastery across a number of truck driving proficiencies before you are eligible to start racing. Perfectly paced, it serves as an excellent introduction to the racing action.
---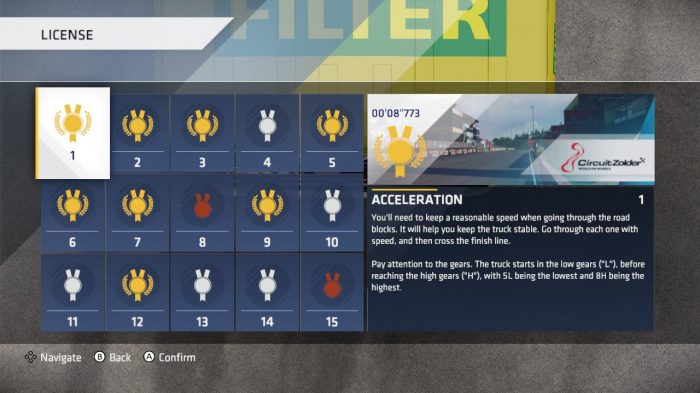 ---
With license in hand, you are then free to embark on a campaign spread across two racing series, the ETRC and World Series. Offering full race weekends including practice, qualifying and up to the full 100% of the race laps, there is a lot of racing action to experience. All of this is tastefully done via a progression system which sees you start as a freelance driver available for weekend hire, before then signing for a team and earning the big bucks. Whilst excellent on paper, the reality is one in which a single race win sees you eligible for big racing contracts for the season. This is the first indication that this title is not quite the simulation experience that is initially promised.
The difference between the two racing series are clear, and go some way to providing an accurate truck racing simulator. The World Series driving feels more responsive, whilst the ETRS feels heavier . Alongside this, a number of customisable driving aids and a dynamic racing line are indicative of the simulation and realism that the developers were hoping to accomplish. You are even required to keep the brakes cool by releasing water and managing the levels as you drive – a neat feature.
---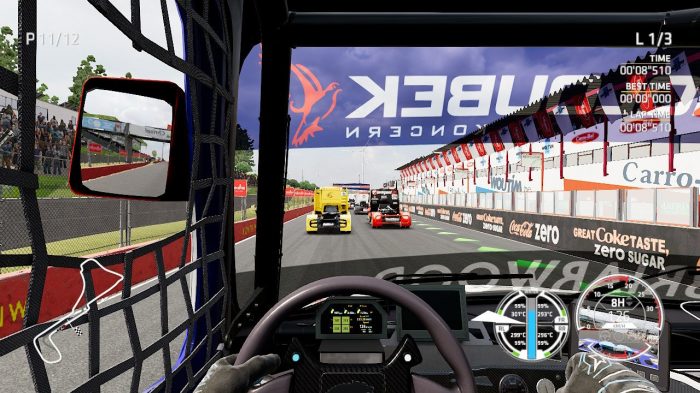 ---
Unfortunately, for all the realism, long load times and performance issues put a into any of FIA European Truck Racing's success. Jagged edges, frame-rate dips and texture popping are evident throughout. When coupled with races that are won and lost through poor handling, inexplicable AI and an unfair penalty system, you have the remnants of racing title that stutters across the finishing line. Often, particular corners on the tracks yield unusual results with the trucks veering off the road with little warning. This also extends to the AI, with there being a number of occasions where the AI spin out and prove too difficult to dodge. Hitting an opponent results in a time penalty, both unavoidable and unnecessary. This is a shame as when races are in full flow and rhythm is found, they can prove to be rather enjoyable.
As well as the aforementioned drawbacks to FIA, there are also missing elements which could have and should have been included. The lack of a rewind function automatically leaves FIA languishing behind modern day racers, and no online multiplayer makes the rather steep asking price hard to justify.
---
FIA Euro Truck Racing Championship
£44.99
Summary
FIA Euro Truck Racing Championship could have been a stellar addition to an underdone genre on the Switch. Instead, poor performance and lacklustre racing means it becomes yet another racing title destined for the bargain bucket.