2019 represents a year where the Nintendo Switch has been pumping out ports like there's no tomorrow. Just when you think you'd seen it all with the likes of The Witcher 3: Wild Hunt and Darksiders II arriving, there's also Capcom really impressing by releasing two exceptional ports of Resident Evil 5 and Resident Evil 6, both of which I deemed the definitive ways to play. Less remarkable, however, was Ubisoft's Assassin's Creed III Remastered, which left me extremely cold thanks to its washed-out visuals, underwhelming gameplay additions and frequent audio hiccups.
---
---
It's with great aplomb, then, that I'm pleased to report that Assassin's Creed: The Rebel Collection proves to be quite a different story. Not only does it bundle in two of the best AC games ever made into one jam-packed package, but it also represents a significant step up in terms of what is expected from a triple-A port job of this calibre. Both Assassin's Creed IV: Black Flag and Assassin's Creed: Rogue are a sight to behold on Nintendo Switch, successfully translating the series' staple social stealth and sea-faring exploration to Nintendo's hybrid platform with ease.
It stands to reason that most people may have already played both these Assassin's Creed entries before on another console, especially since Black Flag in particular has quickly become one of the most beloved. However, this doesn't lessen the fact that what you're witnessing while playing it is somewhat of a technical marvel, being a feature-complete edition of a true open-world classic that for the most part runs flawlessly. There is an argument to say that Black Flag shouldn't be too staggering to pull off as it came to PS3 and 360 as well as current-gen consoles, but being able to sail seamlessly from one edge of a sprawling map to the other on Switch is still no less impressive.
---
---
So, for those unaware and beginning with Assassin's Creed IV: Black Flag, this was the game that first wound the series timeline back a little, relaying the story of charismatic pirate Edward Kenway. This fella is actually the grandfather of Assassin's Creed III's main protagonist Connor, which you'd likely not initially be aware of due to how charismatic and charming he is by comparison. The majority of your time in Black Flag is the franchise's standard mix of stealth missions where you can achieve 100% synchronisation in the Animus by also knocking out certain optional objectives on the way, but what elevates it above any of its predecessors is its widened scope and much improved ship combat.
You see, the life of a colonial era pirate is filled with myriad tasks, ranging from hunting for lost treasure via collectible maps to hunting down mythical creatures and harpooning them for a nice upgrade for your ship. Assassin's Creed IV: Black Flag plays best in moments like this where it just lets you off the leash, free of the modern-day assassins versus Templars storyline taking place in the present. Black Flag does well to encourage you to explore the outer islands to skin animals, loot treasure and synchronise viewpoints, but equally, the three main cities of Havana, Kingston and Nassau feel believably lived in.
---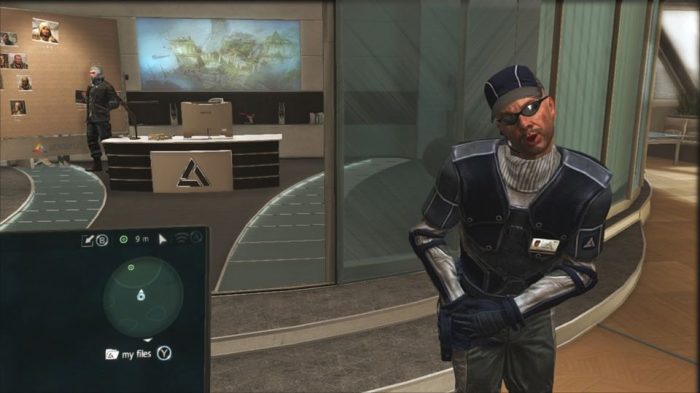 ---
Assassin's Creed: Rogue, by comparison, released only a year later as a healthy way for players still stranded on last-gen consoles to get their series fix. The general gameplay flow and mechanics are extremely similar to those in Black Flag as a result, albeit with a few slight tweaks to what's asked of you due to protagonist's Shay Cormac's decision to turn against the assassins after the first two chapters of the game. Whereas Black Flag may have you undertake general assassination missions, for instance, Rogue features a type of side mission that sees you protect a target against an onslaught from descending assassins. The overarching story is the main thing Assassin's Creed: Rogue has going for it, it's just a shame it is markedly shorter than Black Flag.
---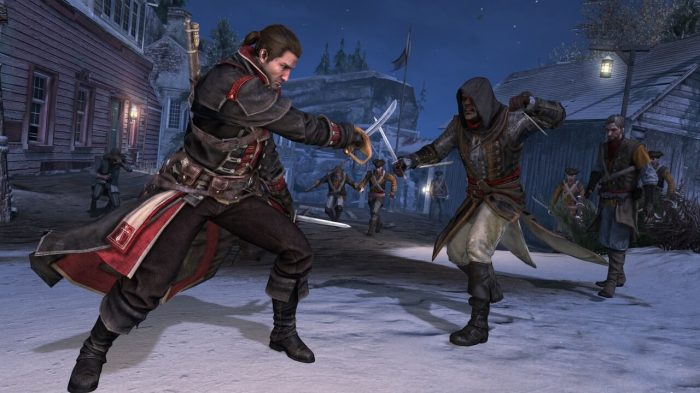 ---
Onto the portion where I highlight a port's most significant additions for Nintendo Switch, and Assassin's Creed: The Rebel Collection boasts all the hallmarks you've come to expect. Gyroscopic aiming for ranged weapons? Check. All the DLC ever released for both games? You bet. There's even full Uplay integration included here, which I took instant advantage of by dressing in Bayek's outfit from Origins at all times. Titbit unlockables like this wouldn't have been available when Black Flag or Rogue first released, so it's nice to see some retrospective content added.
The Rebel Collection represents one of the best value propositions on Switch. Not only is it a marked improvement on Ubisoft's previous Assassin's Creed port attempt, but for the price of one game you get two stone-cold classics that play remarkably well both in handheld mode and on the big screen.
---
Assassin's Creed: The Rebel Collection
£39.99
Summary
Assassin's Creed: The Rebel Collection on Nintendo Switch is nothing short of a technical marvel, proving what a big-time publisher can achieve with a port on the platform when dedicating enough time and effort.