In recent years, the number of games that explore or champion mental health and well-being has noticeably risen. From Nomada Studio's Gris to Ninja Theory's Hellblade, the Nintendo eShop certainly has no shortage of titles that delve into the best and worst parts of our psyches. One Person Story is another such game.
Developed by Lampogolovii, One Person Story is a minimalist 2D puzzler that uses the game as a metaphor for life and the hardships we face. Over the course of 100 levels, players help a continuously bouncing ball travel from one end of a corridor to another using subtle environmental manipulations ranging from turning barriers on or off to halting a spinning blade in its tracks. Sounds simple enough, but as you would expect difficulty quickly ramps up.
---
---
This deceptively simple gameplay is paired with a self-help-style narrative told in soothing melodic tones, the words of which mirror the difficulties faced by the player during each level. For example, when encouraged by the narrator to look to friends for support, the solution to the in-game conundrum may be to use the trajectory of a second ball to our advantage. While later, after hinting that leaving certain friends behind is sometimes the only way to ensure success, leaving that same ball behind might be essential to progressing further.
In games with a strong element of try, die, try again — music is key. And this is an area that One Person Story gets just right, with an accompanying piano track that manages to be both pleasant and meditative at the same time. Likewise, the minimalist level design and limited colour palette ensure that the player's focus remains on the task at hand, forcing them to consider the narrator's words and the trials they face.
---
---
Difficulty-wise, none of the levels are especially challenging and the game can be completed comfortably in two hours. Indeed, the ability to finish One Person Story in a single sitting may well have been a goal of the developer as this prevents any emotional build-up from being lost in between play sessions. But the speed at which some stages can be completed may actually be to the detriment of the message as players race towards the finish.
Near the game's conclusion, as well as navigating multiple mechanics within a single corridor, players must also contend with a sudden tonal shift. Gone are the Hallmark sayings and in their place is something darker – a glimpse into the mind of someone seemingly considering suicide. This felt a little jarring and I was surprised that the game didn't begin with a trigger warning.
---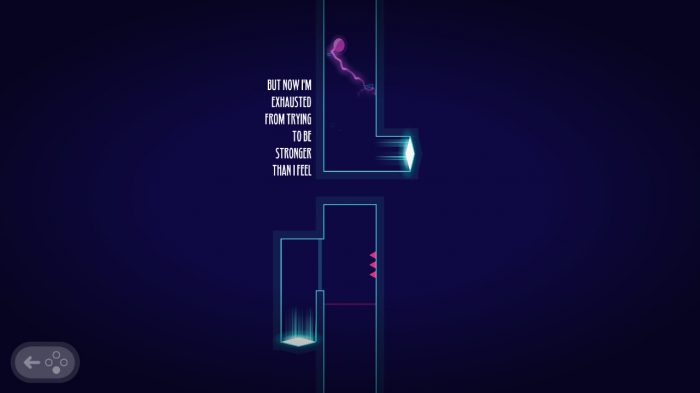 ---
As for replayability, although a chapter selection menu suggests that the developer believes players may want to experience certain portions of the game again, One Person Story doesn't lend itself to a second playthrough. Maybe if the insights had been more, well, insightful players might be tempted to replay portions during difficult times. But given the game's affordable price, this is a forgivable point.
In short, One Person Story was an enjoyable and pleasant experience, despite some of the topics raised. Unlike similar games with powerful mental health narratives, the brevity of the title, lack of an engaging protagonist and familiar-feeling advice on offer mean it's unlikely that many players will want to relive chapters multiple times. But sometimes a single playthrough is enough and in this case, one-and-done is fine by me.
---
Summary
One Person Story is a brief but emotive game that marries 2D puzzles with advice about navigating life's hardships. Although the title attempts to leave an impression, sadly the narrative was not all that memorable, despite the topics raised.