FUZE4 on the Nintendo Switch is truly one of a kind. Advertised on the Nintendo eShop as a coding application that includes an 'easy to learn, text-based programming language,' there is little out there to rival it. It states that 'no coding experience is required', yet this writer has chosen to share his experiences with FUZE4 through a series of 'developer diary-esque' articles before delivering his verdict on the experience as a whole, as it is clear that there is a lot on offer here to explore.
---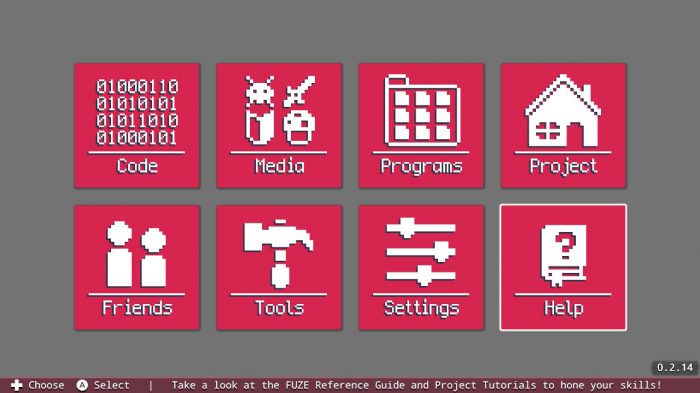 ---
They say not to judge a book by its cover, or a game by its main menu, but it's difficult not to do so with FUZE4. Whilst it will eventually be deemed a huge plus for this coding application, the initial response to the options available is the overwhelming feeling that there may be too much here to get stuck in to. If not actually coding, there is a wealth of media to explore, community-created projects to delve into, map and image editors to play with, and a help section which has everything from command references, keywords and tutorials.
It is the latter that this first FUZE4 preview will explore, largely because it's where every wannabe coder should begin. Through an extensive list of options on the left-hand side, you select an item to learn more about. This information is then displayed in the 'Article Panel' on the right. Detailing everything from the definition of the key concept to example code that can be copied and manipulated, it's clear that importance has been placed on the clarity of instruction and the ease with which the concepts are taught.
---
---
Coding itself can prove to be a rather abstract concept for some, even though it's logic-based and instructional. To attempt to provide support for learners, the information is shared in a rather conversational manner and with analogies throughout. Furthermore, each line of code is numbered so that reference can be made to new functions as and when they are introduced.
What's apparent about FUZE4 from the tutorials is that although the coding language has been designed to be accessible by the masses, the content itself is largely reliant on a desire to learn. This isn't a game to pick up and play – it is a commitment to learning a new skill and putting it into practice. The tools are there, for the most part, and there is a lot of enjoyment to be found in creating new games that the community can play.
---
---
The concern with the tutorials is that they aren't intuitive or flexible in design. Where society has come to expect that coding tutorials are very much hands-on, these tutorials are too static and inconvenient. For example, to try out the new coding concept learnt in the tutorial, the player has to return to the main menu, begin to code, and either type or copy and paste the code in. Both the coding space and the tutorial text can't be used at the same time. This writer chose to print the tutorials so that a physical copy could be referenced whilst coding on the Switch at the same time. This does feel somewhat of an oversight, and it would have been a worthwhile inclusion to support learners of all ages and learning styles.
Once the coding foundations have been built by this writer, the next preview will be centred around the inspiring community projects available on FUZE4. Look out for it next week!
---