When was the last time you played a game that took place largely on a single screen?
It's not something we as players often think about; instead, we become obsessed with exploring new areas, navigating several paths and just generally expanding the in-game world – whatever that might mean. Slayin 2, however, is a pixel-perfect arcade actioner that recognises the power of the single screen, pitting your party of heroes against waves of enemies one colourful setting at a time. I can comfortably say that this is a game unlike anything I've played before. And while the concept is straightforward, I quickly got hooked on Slayin 2's addicting bite-sized battles.
---
---
Alongside its pixelated graphics, Slayin 2 has another foot in the retro era when it comes to traversal. Beginning as a simple knight making his way to the local village, it takes a leaf out of Super Mario World's rulebook in that you move through an overworld, unlocking new stages in which to do battle and upgrade your amount of fame. Everything is presented beautifully, as you might imagine, and the fact that most stages never last more than 5 minutes, helps Slayin 2's quick pace. In all truth, it's a similar structure you'd likely see in a mobile game, but it works.
Once in a stage, you'll be presented with two lanes, one in the foreground and the other in the background, and it's here where you must bat away the endless hordes. The kicker comes in how you can only jump and rush across a 2D plane, switching between the two lanes to stay on top of the invading forces and avoid becoming overwhelmed. It appears simple at first, but soon requires a great deal of thought. Staying alive in Slayin 2 eventually becomes all about management, making the most of your character's one special attack and random item drops until you make it to the end boss.
---
---
Speaking of which, bosses in Slayin 2 represents some of the most creative encounters you'll have in the game. Not only because almost all utilise both lanes, but also because they force you to study their attack pattern meticulously. An early example is the graveyard witch, who will chant out musical notes to do damage, while temporarily hypnotising you to stay in a lane once you get caught in her song. There's one awaiting you at the end of Slayin 2's various stages, so it pays to play it sensible when going up against the hordes beforehand – otherwise you'll be seriously hindered by your low health.
Another major component of Slayin 2 is its low-key settlement management. Early in the campaign you'll come across a village, as mentioned before, filled with local people in need of your help. While only boating limited capabilities at first, eventually you can spend currency to rebuild shops and resources so you can upgrade your gear. This is also how you gain more party members. There are 8 in total to collect and all play extremely differently, boasting individual perks and skills that come in handy both in the single-player story or in co-op.
---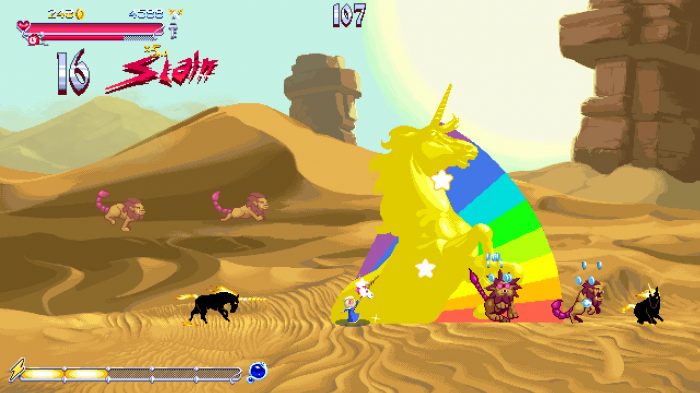 ---
I was really surprised by Slayin 2. What at first seems like a novel idea in the single screen, two-lane set-up forces you to think tactically about battles. Throw in some charming presentation and bosses oozing with creativity, and it's the perfect way to get a short hit of adventure on Nintendo Switch.
---
Summary
Slayin 2 takes a pretty niche gameplay concept and absolutely runs with it, being a near-perfect arcade game filled with fun bosses and bite-sized battles.