Now, I don't mean to appear big-headed, but I'm quite something on the dance floor. I'm known in certain more prestigious artistic movements for my signature moves such as The Huckleberry Shuffle, Walking a Frog in the Dark, and D-d-d-don't stand on my toes, baby!
What do you mean, "you haven't heard of them?"
Okay, truthfully, I'm a terrible dancer, but what I lack in skill I make up for in enthusiasm. Fortunately, this well-established franchise rewards enthusiasm above all else, and (even for someone north of 30) there's a huge amount of enjoyment to be had cutting shapes to some stone-cold classics in the name of fun.
---
---
If you're not into dancing – and let's face it, not a 14-year-old girl – you might not actually know what all the fuss is about. Just Dance is a music rhythm game where you imitate dance routines displayed on the screen by real dancers. Much like other dancing arcade classics like Dance Dance Revolution, you're scored appropriately based on how well you time your movements, and you'll accumulate a total score which will determine a one to five-star rating. However, unlike other rhythm games like DDR, Just Dance is so much less about the score and so much more about getting stupid with your friends.
Critically, it's done a fantastic job of making what's happening on the screen a visual feast, and every video is themed in its visual style, exploding with colour and vibrancy. The choreography is incredible, and though I floundered like a sweaty octopus, the different song difficulties meant I was able to identify suitable performances for my level. The way the Switch recognises your hand movement means you can always be a little bit off and interpret these moves in a way natural to you. As someone with about as much flexibility as a stick of Brighton rock, I appreciated its forgiving nature, let me tell you.
---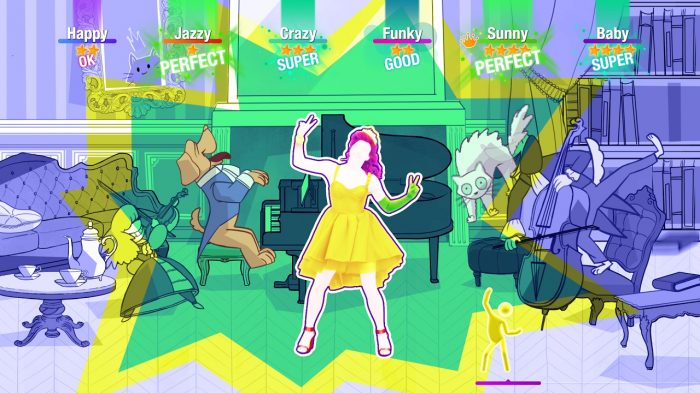 ---
Of course, a music rhythm game is only ever as good as its song selection, and considering the target audience of Just Dance, you might be concerned that the only tunes you're going to find here will be from trashy pop artists and internet zeitgeists. Okay, I'll level with you, there is quite a bit of that. The core 40 song tracklist features superstars such as Harry Styles, Sean Paul, and Dua Lipa, but there's also a good selection of K-Pop, Rap, EDM, and even Disney classics for kids (and big kids) to enjoy. Honestly, if these 40 songs were all that was on offer, I'd say the staying power of this title would be minimal, but Just Dance has an ace up its sleeve in a subscription-based service called Just Dance Unlimited that expands the library of songs available to a whopping 550. Once you overcome the initially daunting challenge of navigating such a huge selection, it becomes clear what an epic game you now have on your hands. Countless other genres, with songs collected from all the other Just Dance entries, will ensure there really is something for everyone. I found myself teleported back to my primary school disco days, rocking out to "Blue (Da Ba Dee)" and Paul Johnson's "Get Get Down" – two songs I really never expected to find here. Naturally, this service comes at a price, and passes are available for anywhere between 24 hours and one year, costing between £2.50 and £19.99. One month is included free with your purchase of the game, so there's plenty of time to see if it's worth it for you.
---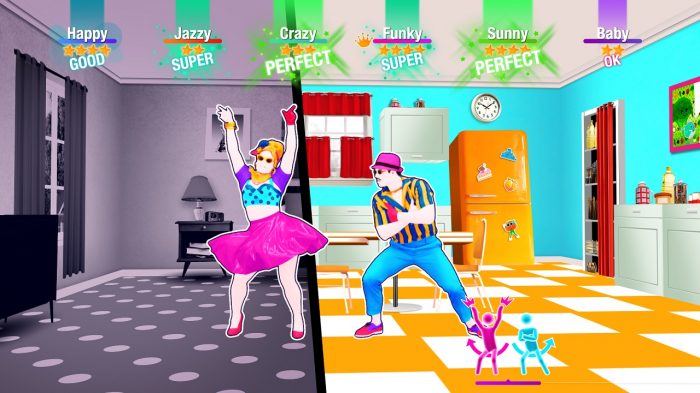 ---
As a solo player, I treated my daily dose of Just Dance as cardio, and it's truly a brilliant way to get the heart pumping. But let's be honest, this is a game designed to be played with others, and because this version of the game can be played with just one Joy-Con in your hand, two people can play together in co-op mode without any additional accessories. Furthermore, smartphones can be utilised for additional players, meaning up to 6 people can play at any one time in this edition. Painfully, there's no real online multiplayer option here, although there is a "World Dance Floor" that allows you to take on other players online for the top spot in miniature tournaments. Whether they're playing live or you're playing against their recorded scores, I couldn't be sure.
---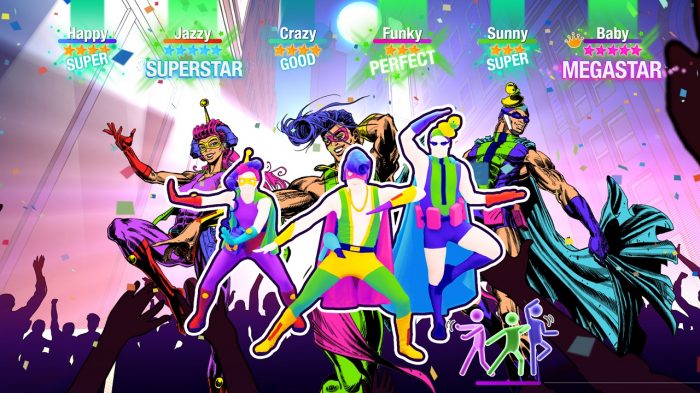 ---
Finally, to create some sort of advancement in the game, there is a progression system included. As you dance to songs, you'll be awarded XP, levelling you up and unlocking stickers, aliases, avatar backgrounds – loads of stuff to keep kids entertained. For the record, my adopted alias is "Potato Dancer," which is frankly spot on.
Look, I took a gamble on this because I've been locked away on my own for too long and I'm getting fat. What I wasn't quite expecting here was the rounded, high-quality experience Just Dance 2021 has to offer. Granted, the core collection of songs will provide limited entertainment outside of the key demographic, but the availability of the Unlimited Pass is fantastic, the visuals are masterful, and the choreography has been expertly crafted. I'm no John Travolta, but thanks to Just Dance I sure as heck felt like him.
---
Summary
Put on your dancing shoes 'cause Just Dance 2021 is here to show you how to move. With superb visuals and varied choreography, it's only a lack of online play and a limited core song list that hold it back.