The way the Nintendo Switch era has been for wrestling fans has been nothing short of a disaster.
Early signs of promise were obviously there, with WWE bringing their 2K18 release to the console after wrestling games skipped its predecessor the Wii U in its entirety. But that game was famously a travesty, an absolute broken mess which continues to leave on in infamy alongside Troll and I as two of the most well-known car crash games in the system's 7,000-game strong library. We did get WWE 2K Battlegrounds years later, but that was more of an arcade-type affair, and Wrestling Empire was a recent independent offering which didn't scratch the wrestling game itch.
---
---
That's where RetroMania Wrestling steps in. With a highly impressive roster of recognisable wrestlers from throughout the ages – stars of yesteryear including the Road Warriors, Austin Idol and the BWO are included, as are the likes of current NWA World Champion Nick Aldis and future stars such as War Horse – hardcore wrestling fans are going to be very impressed with the likenesses on offer here. There's even a current WWE star in John Morrison – referred to here as Johnny Retro – who is the protagonist for the game's short story mode, in which he must work his way back up the wrestling ladder in order to exact revenge upon Zack Sabre Jr., whose heinous attack was responsible for a sizeable injury layoff.
This is a title which, naturally, will appeal strongly to the old-timer gamers who grew up on button-mashing wrestling games in the arcades, both in terms of its style and its gameplay – after all, it is the sequel to 80s arcade game Wrestle Fest. Players are encouraged to use the four directional inputs of the D-pad in order to move around the ring, while the grappling is done using the Y, A and B buttons. Y delivers a soft strike, B a medium and A a powerful one, which each rise in effectiveness accompanied by a higher chance of your attack missing and things going south. There's no grab button, so to speak – moving towards an opponent initiates a test of strength, from which you must button-mash to gain the upper hand, then choose one of three attacks with the buttons mentioned above.
---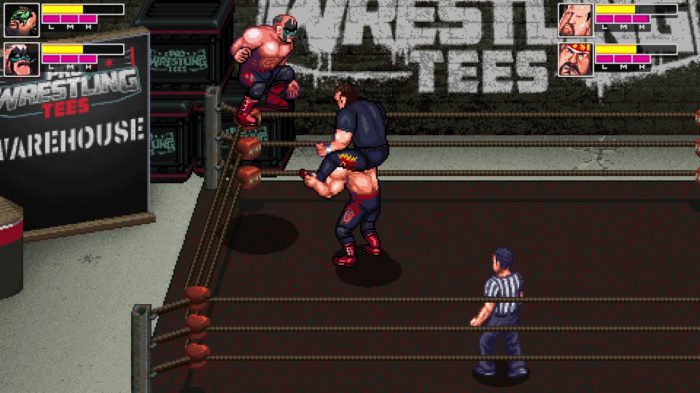 ---
Momentum is a key part of proceedings here – you won't be able to pull off your most powerful moves if momentum is not on your side – so there's very small chance of a smash-and-grab victory. Each attack raises your momentum and lowers that of your opponent, while taunting is another thing which can get the meter swinging in your favour. It's reminiscent of the great Day of Reckoning games on the GameCube, albeit with somewhat less nuance.
There's a number of different match-type options in the game, including a 10 Pounds of Gold gauntlet-of-sorts which culminates in a shot at Nick Aldis's NWA World Title, as well as a Rumble match of up to sixteen participants. The game handles multiple wrestlers being in the ring at one time very well, with six-person tag matches a regular feature of story mode. You can even jump off the top of a steel cage, which is particularly exciting for a typical 2D wrestling game.
---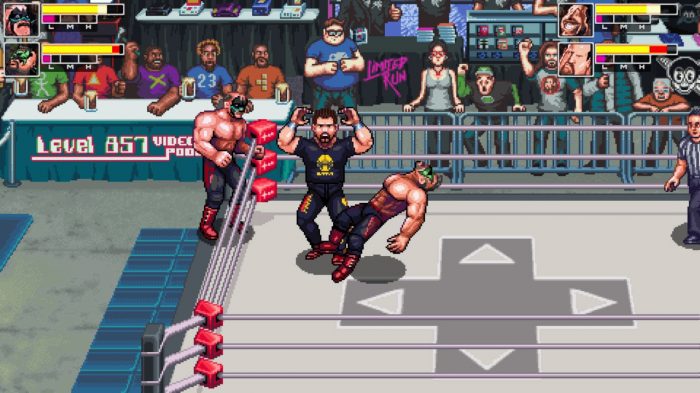 ---
There's a weird sensation in tag matches in which if you go for a pin, you suddenly take control of your tag partner in a bid to stop your opponent from breaking the pin up. That can be disorientating and of course makes things feel more arcade-y rather than realistic, but it's something I'm willing to overlook because RetroMania Wrestling is just proper old-school wrestling fun.
It's impossible to deny this being anything less than the best wrestling game on Switch.
---
RetroMania Wrestling
£22.19
Summary
RetroMania Wrestling is simply the best wrestling game available on the Switch. Appealing to both hardcore wrestling fans and old-school gamers, it's a hark back to a forgotten era of gaming. The Switch still needs a new AAA wrestling game, though.