Having originally released in December 2020 for PC, Mac and iOS, Alba: A Wildlife Adventure makes its debut on the Nintendo Switch. The game conveys a heavy message of looking after our planet and our animals. Developers Ustwo Games say they want their games to have a lasting impression on the player and this is certainly the case for Alba: A Wildlife Adventure.
Alba: A Wildlife Adventure is described as a 'chillectathon', meaning there is no need to rush your experience. Take your time and really appreciate your surroundings. Believe me, you will want to.
---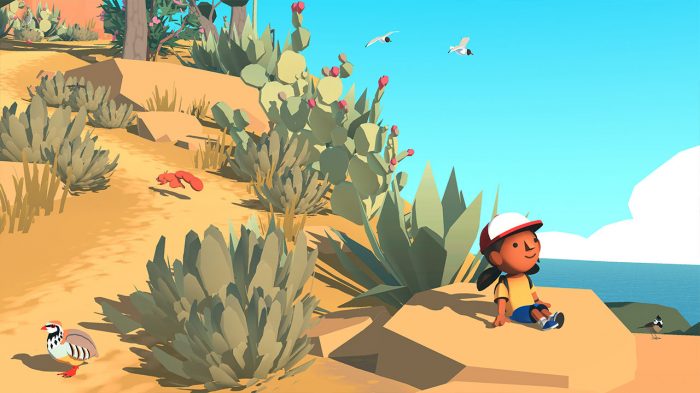 ---
The story here is one that a lot of us will know all too well. You take the role of Alba, a young girl visiting her grandparents who live on a small but beautiful island known as Pinar del Mar. But, as beautiful as Pinar del Mar is, it isn't without its downsides — pollution and environmental problems. The island is covered with litter, including on its beaches, and the island's Nature Reserve has been destroyed. Instead of fixing it, the Mayor wants to build a hotel on top of it.
The rubbish spread all over the island is a big problem, as you will come to realise in your first 10 minutes of playing when you see a dolphin caught up in some plastic. You save it, of course, but you quickly realise the wildlife here is suffering badly. That's when Alba decides to make it her mission to clean up the island; collecting the rubbish, fixing up anything that is broken, and stopping that hotel from being built to save the Nature Reserve — get a petition going! Alba must get 50 signatures to succeed, this shouldn't be too difficult.
You will be given small tasks to complete so that you do not lose your way, but simply exploring the island will see you complete these tasks without even checking them. Putting rubbish in bins, fixing birdhouses, saving animals and my personal favourite, taking photographs of them to document what animals are around.
---
---
Alba: A Wildlife Adventure features over 60 different species of animals to photograph and observe, from birds to rabbits to sheep. It's mostly birds you will be looking at, but that doesn't make it any less wonderful. The photography element is simple; you can zoom in and out and snap the picture. It will tell you whether what you're looking at is unidentified or not, which is helpful.
A feature I feel is missing, though, is the ability to look through the photographs you have taken. It would have been nice to have a little photo book to capture some cute and stunning moments on the island. You do have a book of all the species in the game to look through, keeping a track of how many you have captured and how many you haven't, which is helpful.
As far as the characters go, there aren't really many memorable ones. You have your grandparents, who are very cute, and also your best friend, Ines, who helps you on your adventure, but other than that there aren't any characters that stood out for me. You can go around the island speaking to its inhabitants but this isn't really necessary since what they have to say has no impact on your story.
---
---
Alba: A Wildlife Adventure features particularly handcrafted visuals, and it shows. With several biomes to explore and be in awe of, Pinar del Mar is the Mediterranean island you feel you need to live on. Ustwo Games based it on their childhood summers and it's wonderful. Even though the graphics feature an unrealistic cartoon style, each animal looks exactly as it should and the surroundings are packed full of vibrant colours. No area is dull and that's the beauty of it; you will be left wanting to take photos at every turn.
I'm a big believer that a soundtrack can make or break a game and this one certainly makes it. Featuring an orchestral score from Lorena Alvarez, it leaves you feeling emotional and amazed in equal measure. Not to mention the sounds of the wildlife whilst exploring the islands. Hearing the birds singing, the owls hooting and the sounds of the crickets buzzing were music to my ears. I could have easily fallen asleep to all of these sounds.
---
---
Sadly, Alba: A Wildlife Adventure was more of a jaunt. Don't get me wrong, the game itself is fantastic and I absolutely adored it but it's simply over too soon. It took me a little over three hours to complete and it just wasn't enough. I wanted it to continue. That doesn't mean it doesn't leave a lasting impression on you though, because it certainly does. You are able to freely explore the island when the main story has finished, to collect anything you might have missed.
I think we can all learn a lot from Alba: A Wildlife Adventure. We all need to look after our planet and wildlife and Alba makes you feel the effects of what can happen when we don't. Because there isn't always going to be an Alba to save the animals caught up in our rubbish and there isn't always someone to stop nature reserves being built upon. I've not had a game that has questioned my morals quite as much — let's all be better at maintaining our planet and all the things that live upon it!
---
Alba: A Wildlife Adventure
£16.74
Summary
Alba: A Wildlife Adventure is as much educational as it is relaxing. It's a short experience but it is one that you can learn a lot from as well as having a wonderful time.