Two new physical titles have been announced by publisher Funbox Media, and we've got the details you'll need to get acquainted with them.
It looks like Chicken Range and Vegas Party are headed to Europe in physical form, as Funbox Media have listed them both on their official website. A shoot 'em up title and a casino mini-game title respectively, they're headed our way in a few months – the latter just before the new year, and the former not too long after it.
Let me introduce you…
---
Chicken Range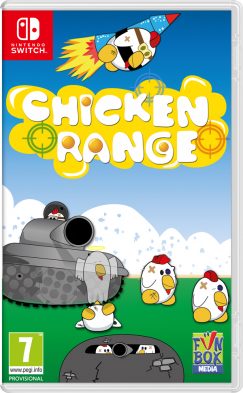 A chicken shooting title with lots of weapon choices and upgrades, Chicken Range has you plucking chickens left and right. As you kill a chicken, another spawns – and with gameplay which spans two screens wide of play field you'll need to be constantly checking the blind spots. Speaking of blind spots, chickens will be able to throw eggs at the screen and obscure your view… so watch that the yolk's not on you.
All this will occur over eight different levels, which each new level introducing a different chicken foe. Foes will have varying difficulty with regards to their protection, so make sure to shoot those chickens dead!
As for how you'll take them on, you can carry up to six weapons with you – though only a few are free. You'll be able to stock up on supplies at the Range Shop however, where you can also get ammo packs (to augment those that drop during the level).
Chicken Range is coming out February 23rd, 2018 for £19.99.
—
Vegas Party
A game which pulls you into the gambling-friendly gravity of Las Vegas, Vegas Party is played as a race; your goal as the player being to reach the end of the Strip before anyone else.
You'll compete in ten unique mini-games across seventeen casinos and eighteen original environments, getting a look at all the lovely cliches you might expect from the real Sin City. It features up to four players in multiplayer play, and a token system for cash, so get some friends together (or go solo) and clean 'em out!
Vegas Party is coming out December 8th, 2017 for £19.99.
---
Both of these titles seem to be coming in physical copy (and are already listed on various retailer websites) from Funbox Media – who are known for publishing titles exclusively for their own region (UK/EU). As such, I don't think it's safe to assume a release elsewhere until we hear otherwise.
Chicken Range and Vegas Party are now headed to the Nintendo Switch in Europe.
Are you up for the whole range of party favours? 😛