The angelic Gal Gun girl will be available as a free download if you get in there quick. 😉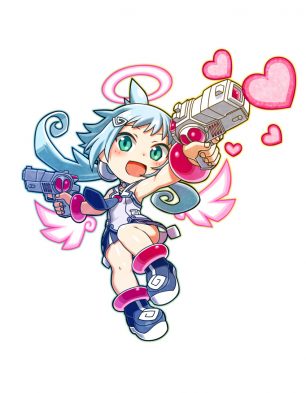 Free to download for the first two weeks (July 27th to August 9th), this new bit of DLC will add the self-proclaimed "elite" angel to Mighty Gunvolt Burst – giving you access to a rather unique hero. Her basic attack – the Angel's Arrow – is rather weak, but she makes up for it with the Goddess' Blessing; using her heavenly power to raise her attack.
As for how she got roped into all this, it all started with Patako – her upperclassman at the Angel Academy. He recommended a game for her to play, and seeing as how he was someone she admired she decided to try it. Putting on the head-mounted display she set off into the game world, ready to give it her all.
Whether her all is enough however, you'll have to find out for yourself! In the meantime, let's check out some media showing her off in-game shall we?
---
---
Mighty Gunvolt Burst is now available in all major regions, with the free (for a limited time) Ekoro DLC hitting on July 27th with the 1.1 update.
Will you be digging in?
—