The Binding of Issac: Afterbirth+ leads the charge on the EU e-shop as we see bricks, spears (speers?), Baseball and more come to the Switch.
With EIGHT new releases this week, is there anything for you?
---
The Binding of Isaac: Afterbirth+ – €39.99 / £35.99 / CHF 56.00
Isaac has discovered a labyrinth beneath his own house, filled with monsters, power-ups and unimaginable treasure. Can he survive the physical challenges and psychological trials of a world he never made? The Binding of Isaac: Afterbirth+ is a dungeon-crawling shoot-'em-up that's literally a different game each and every time you play it! The randomly generated maps are built with over 11,000 unique room configurations, each populated with a nearly endless variety of enemies, items, challenges and secrets!
Read our review here!
R.B.I. Baseball 17 – €29.99 / £26.99 / CHF 39.99
Your breakout MLB season is on Nintendo Switch! R.B.I. Baseball 17 returns in the fourth edition of the classic franchise, developed by MLB.com. Fun, fast paced, high-octane baseball action bring back R.B.I's pick-up-and-play roots. Take control of your game with reactive pitching and batting systems that allow for in-the-moment decisions. R.B.I. 17 is packed with 30 authentic ballparks, advanced stat tracking, season game sims and roster updates throughout the season. R.B.I. Baseball is back, you gotta come ready to play!
LEGO Worlds – €29.99 / £24.99 / CHF 34.90
EXPLORE. DISCOVER. CREATE. TOGETHER. LEGO Worlds is an open environment of procedurally-generated Worlds made entirely of LEGO bricks which you can freely manipulate and dynamically populate with LEGO models. Create anything you can imagine one brick at a time, or use large-scale landscaping tools to create vast mountain ranges and dot your world with tropical islands. Drop in prefabricated structures to build and customize any world to your liking. Explore using helicopters, dragons, motorbikes or even gorillas and unlock treasures that enhance your gameplay. Watch your creations come to life through characters and creatures that interact with you and each other in unexpected ways. In LEGO Worlds, anything is possible!
Double Dragon 4 – €9.49 / £8.59 / CHF 13.30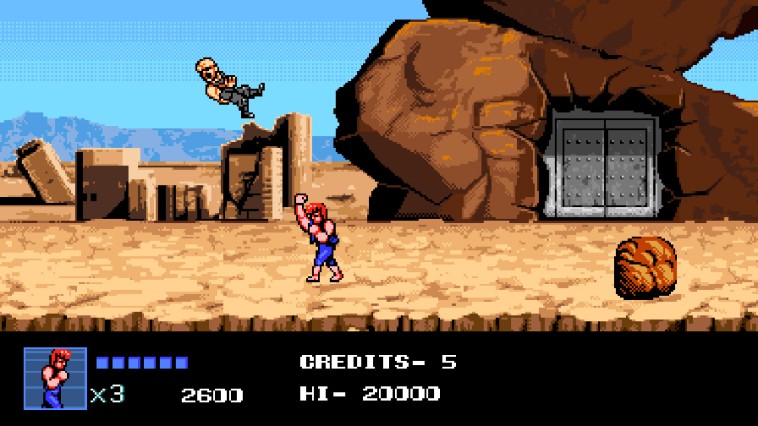 The next entry in the side-scrolling action game series Double Dragon is finally here! The story picks up after the elimination of the Black Warriors in Double Dragon II! Experience all-new exhilarating action with the original old-school graphics! Use the art of Sou-Setsu-Ken to rescue the kidnapped Marian! Plus, new enemy characters including ninjas, karate masters, and sumo wrestlers, none of which have been seen in Double Dragon before! There are lots of extra modes, too! Cool new features fans have been waiting for! Playable enemy characters, VS Mode, Tower Mode, and even more!
Lichtspeer: Double Speer Edition – 9.99 / £8.99 / CHF 14.00
In a land filled with Penguin Vikings, Wurst Zombies, and Hipster Ice Giants, survival is an art. Fortunately, an ancient champion with an elegant weapon has been summoned to please the Gods and restore balance to the universe. Grab your lightspear, become a Germonaut, and traverse lands straight out of Germanic myths. Survive with style and expand your powers to fight for the glory and amusement of the almighty Gods.
NeuroVoider – €13.99 / £12.99 / CHF 19.99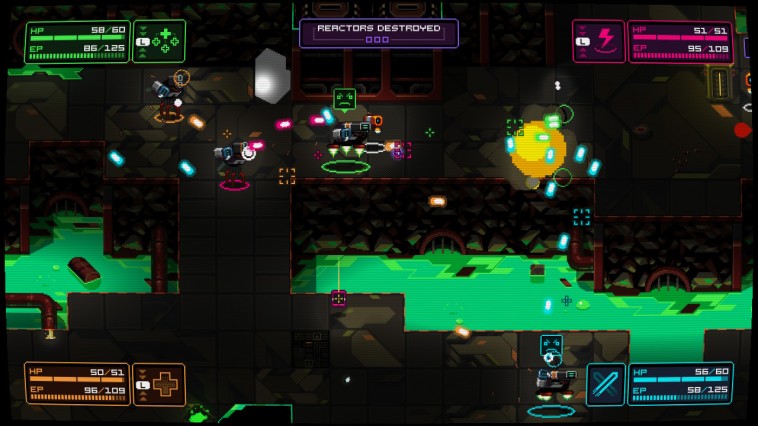 NeuroVoider* is a twin-stick shooter RPG set in a cyber futuristic world about brains shooting around evil robots with nuclear rocket launchers. Battle through the horde of vigilant robots, boost your character with the smoking remains of your victims, and defeat the master NeuroVoider to end this eternal war. Play it coop with up to 4 friends, or go alone in an adventure of hack'n'slash rampage, with a pinch of rogue-lite, and some permadeath. * may contain explosions.
Physical Contact: 2048 – €5.00 / £4.49 / CHF 7.00
Physical contact: 2048 is a casual but head-minded game that aims at higher values by coalescing the same blocks in the region.
The Bridge – €9.99 / £8.99 / CHF 14.00
The Bridge is a logic puzzle game that forces you to reevaluate your preconceptions of physics and perspective. It is Isaac Newton meets M. C. Escher. Manipulate gravity to redefine the ceiling as the floor while venturing through impossible architectures. Explore increasingly difficult worlds, each uniquely detailed and designed to leave you with a pronounced sense of intellectual accomplishment. The Bridge exemplifies games as an art form, with beautifully
hand-drawn art in the style of a black-and-white lithograph.
Demos
DLC;
[LEGO Worlds] Classic Space Pack – €3.99 / £3.29 / CHF 3.90
Be sure to check back on Switch Player for reviews on these titles soon! Will you be picking anything up this week?