Pop the kettle on, because Coffee Talk from developer Toge Productions is here on the Switch. Making you the sole owner and barista of a nighttime-only coffee shop in a fictional imagining of Seattle, this visual novel spouts some piping hot presentation with its pixel art graphics and soundtrack, but should you take a sip straight away, or wait for it to cool down with a sale price?
---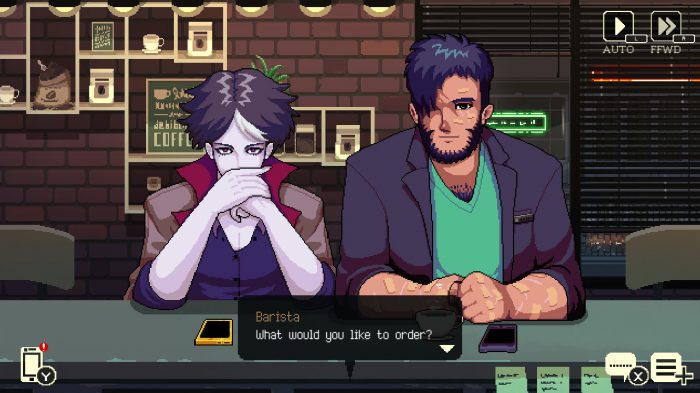 ---
The setup of Coffee Talk's lore reminds me of the Fables comic book series, which many of you will know from The Wolf Among Us. Different fantasy species and creatures all living and co-existing in a normal, urban setting. You'll meet a ton of different characters on shift; a writer working on her first novel, a police officer taking an extended break from his duties, even a vegan vampire meeting up with an old friend that happens to be a werewolf. Throughout the sequence of nights, you'll watch the snapshots of their lives play out, intertwining with one another and taking a moment of solace in a calm, relaxing cup of joe.
The motivations of your character in the game are, at first, a little strange, as a barista and coffee shop owner that purposely only opens to dwindling levels of customers at night, indulging in their conversations like a fly on the wall. They have a mind of their own, and they also have an existing rapport and relationship with some of the regular punters at the shop. This helps with the world-building and believability, as it feels like you're jumping into an already existing and ongoing world.
---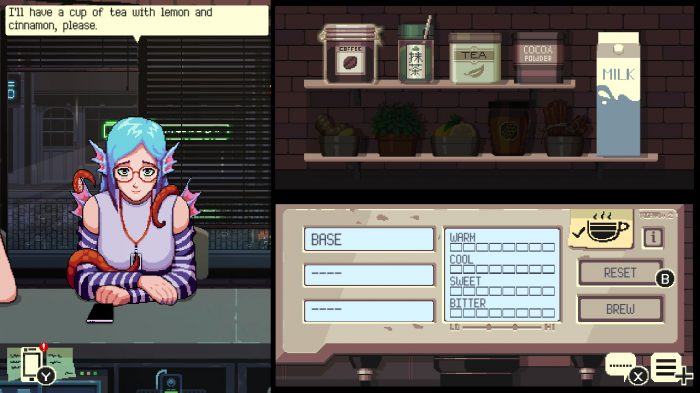 ---
It might have been nice to have a bit more autonomy over the dialogue choices, but it's also quite refreshing to sit back and watch as the night goes on. It seems you have control over everything in the coffee shop, from the orders to the music, but just not the conversations, or the trajectory of people's lives themselves. For that, you're just an observer.
The through-the-keyhole storytelling on offer here specifically is quite unique; perhaps the closest thing it reminds me of is Subsurface Circular. Neither let you see the outside world, no matter how desperate you might be. Instead, you're drip-fed morsels of information about the ongoings of this parallel Seattle outside the confines of the coffee shop, allowing your imagination to get immersed and invested.
---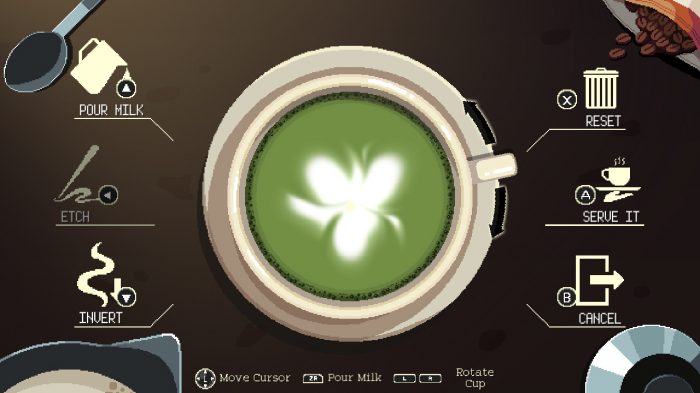 ---
Inspired by 90s anime, Coffee Talk's pixel art style and overall presentation create a relaxing atmosphere that makes it perfect to play at night. The main gameplay element—the making of the coffee itself—is extremely simple, just requiring you to select a few different ingredients, but you do get some puzzling requests from visitors, and you can personalise drinks with latte art, which is a nice touch. With your mobile phone, you can view your friends' social media profiles to get clued up as to what they like and check on the different recipes. Make the wrong order and you'll get some negative feedback, but it doesn't seem to have that much of an effect on the story. There is an alternate ending, however, and an 'endless' mode included, which add replay value.
Overall, while a little more interactivity and agency over the story would have been nice, Coffee Talk feels like a soothing, warm cup of cocoa, with its relaxing atmosphere, chilled soundtrack, and intriguing story. If this one looks like your cup of tea, then it should go down a treat.
---
Summary
While a little bit more challenge in the coffee-making itself would have been beneficial, Coffee Talk presents a relaxing, stylish interactive story experience, serving up a slice of life in a fascinating world that's similar to our own, yet wildly different.