Japanese development team. Fictional player names. Unorthodox football mechanics. No…PES 2020 hasn't made it onto the Switch. With EA stating that their support for the latest version of FIFA is going to be less than exemplary, it's the perfect opportunity to capitalise on an open market. Bandai Namco has struck first with a frankly bizarre take on the beautiful game with the anime-inspired Captain Tsubasa: Rise of New Champions.
---
---
Our journey begins during a regional tournament for newcomers, and Captain Tsubasa wastes no time in getting you up to speed. After a series of tutorials in which you are taught to tackle, sprint and shoot, you embark on quite possibly the weirdest and wackiest journey to football fame that we've ever seen. Sharing similarities with Red Card Soccer for its no-holds-barred approach to tackling and the rags to riches of This is Football – jumpers for goalposts are absent, though there are smatterings of inspiration on show throughout. That being said, there is nothing on the eShop that comes close to replicating what Captain Tsubasa has in store.
Flying falcons, comedic mid-game cutscenes and an absent referee only just scratch the surface. Taking control of Tsubasa Ozora, a school student with aspirations to make it to the top of the football association, you take a team of passionate players from regionals to nationals and beyond. Told through anime-like cutscenes with Japanese voiceovers, you witness friendships and rivalries develop en route to stardom.
---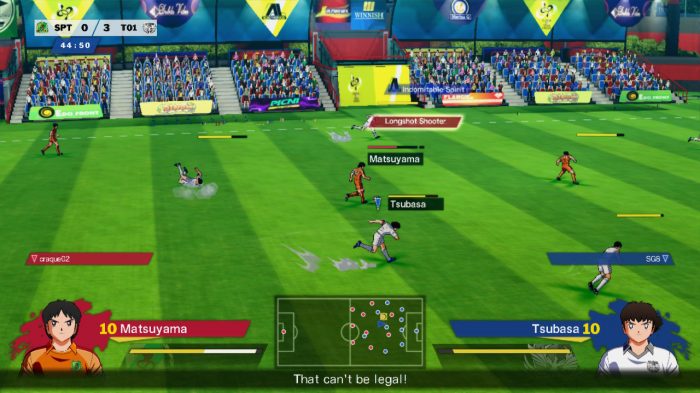 ---
Captain Tsubasa is a much-loved manga series dating back to the early 80s and it is clear to see why: the charm of this latest game comes not from its arcade take on football, but its visual novel-esque approach to storytelling. The graphics look fantastic in both docked and handheld modes, paying homage to its roots beautifully. It also develops the story extremely well, rarely overstaying its welcome and carefully balancing both the action and the reaction to it.
Not one to rest on its laurels, Captain Tsubasa ensures that it isn't just a one-hit manga by including different game modes. Alongside local coop for up to 4 players and a well-balanced and stable online experience-based ranked league, there are two campaign modes – Episode: Tsubasa and Episode: New Hero. The former is for beginners, although it doesn't feel like it at times, and the latter is for veterans who wish to develop their own character and determine their own journey. It's even referred to as 'The Journey' on the main menu, and, intentional or not, a nod to EA's 'legacy' or lack thereof, feels like just desserts.
---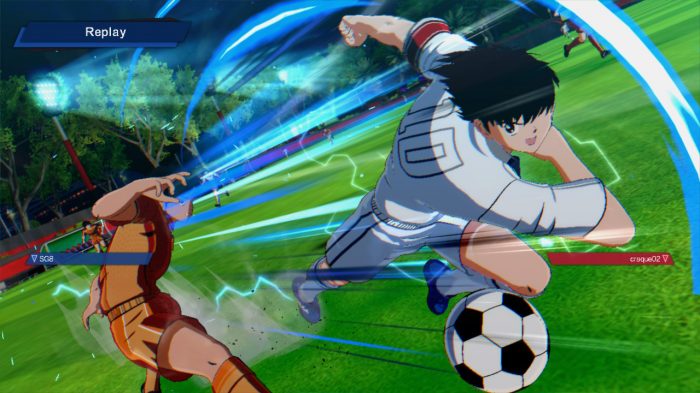 ---
Fans of the manga series will have already bought this one, leaving the casual gamers and avid football fans to determine if it's for them. Unfortunately, beneath the polished presentation are a few faults which have the potential to derail Captain Tsubasa's season. Early moments with the game are fraught with frustration as the mechanics take some getting used to, particularly the shooting which all too often feels like potluck. The inability to sprint and pass at the same time remains disappointing even now. As well as this, the camera struggles to keep up due to the fast and frantic nature of the game.
Rise of New Champions could have been a rather apt title for the new Captain Tsubasa game. However, whilst it excels off the pitch, it stutters a little on it, leaving players to determine whether the acquired taste of this arcade offering will be enough, or whether the visual novel-ty will wear off.
---
Captain Tsubasa: Rise of New Champions
£49.99
Summary
Captain Tsubasa: Rise of New Champions takes arcade football and puts a new spin on it, resulting in fun, frantic and frustrating gameplay. When the final whistle blows though, that marvellous manga magic makes it easier to forgive its shortcomings.