There aren't many games that I would happily sit down and play to relax or calm myself down before bed. That was until I played The Alto Collection. No matter the mood I was in, The Alto Collection made sure that I would be going to sleep with an empty mind, and given the year that we've had, that was a blessing.
The Alto Collection consists of two titles; Alto's Adventure and Alto's Odyssey, two games that originally released on mobile and as you start playing, it becomes clear that they were. As brilliant as they are, they are very simple. Both games premise is the same; sliding – or boarding – down a seemingly never-ending mountain, avoiding rocks, collecting coins and various power-ups as you go as well as performing tricks (and in Alto's Adventures' case, collecting llamas, because why not be a llama farmer too?).
---
---
As you try to survive the mountain, you will accumulate points – they don't necessarily have a purpose and are just for bragging rights, I suppose. The coins you collect on the way down, however, will allow you to purchase various upgrades, such as certain perks lasting longer, a helmet that allows you to withstand one crash and even new costumes and boards. These upgrades provide a little bit of customisation and personalisation to the game.
To fit right in with the simple gameplay, the controls are super simple too. The only button needed is the A button. This allows you to jump and perform tricks (which are only in the form of backflips and grinding across objects). Careful though, if you misjudge your airtime whilst in the middle of a backflip, you will crash land and your run is over, putting you onto a screen that details your stats and giving you the option of playing again or going back to the main menu. I did find that sometimes the game took a little longer to load than I would've liked, leaving me waiting for a good 30 seconds or more before being able to proceed.
---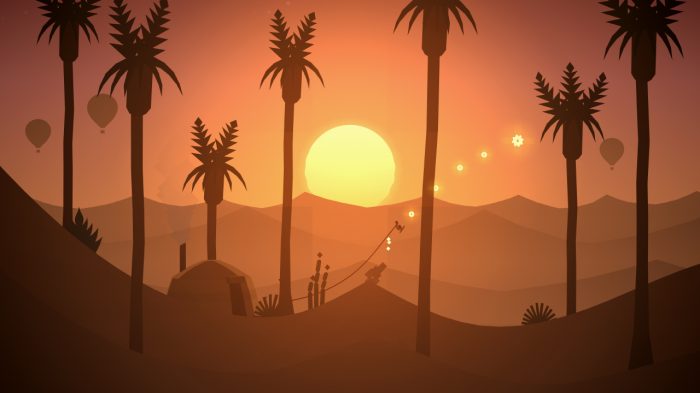 ---
There are various challenges to complete throughout your playthrough, which is the closest thing to a story you're going to get. Challenges will consist of completing tasks like performing three backflips, breaking a pot or even collecting so many coins. It's only little, but it adds a little more to the experience, giving you something to aim for. Clearing these challenges will allow you to unlock some new characters and perks, which is nice. As well as the challenges, there is also a 'Zen Mode', which does exactly what it says on the tin: A stress-free, no points zone. It's an incredibly peaceful experience to play at your own leisure.
The only real difference Alto's Adventure and Alto's Odyssey have between them is their setting. Alto's Adventure is set in the snowy mountains, whereas Alto's Odyssey is set in a sandy desert. As refreshing as these subtle differences are, it still felt like I was playing the same game and not two different ones. It would have been nice to have some slight differences in gameplay.
---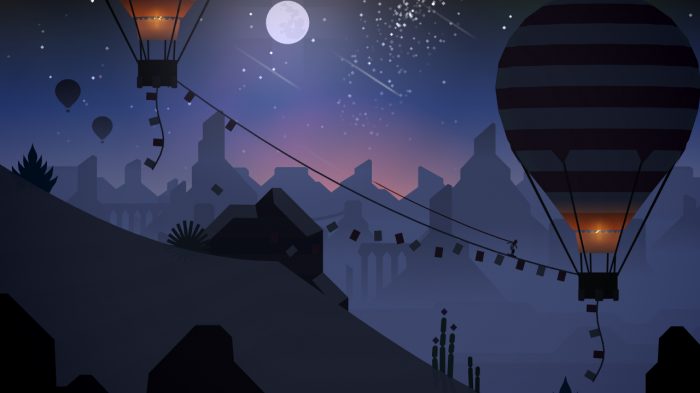 ---
This brings me to, undoubtedly, the best part of The Alto Collection – how it looks. The gameplay is simple, but the art-style is anything but. You're provided with a wonderful backdrop to accompany you on your endeavours; seeing far away cities and mountains, just to name a few. Both games feature a full day and night cycle as well as changing weather patterns that will vary as you progress further. There was nothing more relaxing than watching the sun come up, lighting the already beautiful area in a vibrant orange. What's better, both games also feature a nice photo mode, so you can capture those amazing moments. It's a simple addition compared to most photo tools, but it does the job.
To accompany these wonderful sunsets is a soundtrack that could easily send you to sleep. No, it isn't boring, it's so very relaxing, calm and collected. Both Alto's Adventure and Alto's Odyssey have a piano-based score and they are both fantastic. Though very similar, I felt that Alto's Odyssey's soundtrack offered a little bit more oomph and emotion. That's not to discredit Alto's Adventure's soundtrack though.
---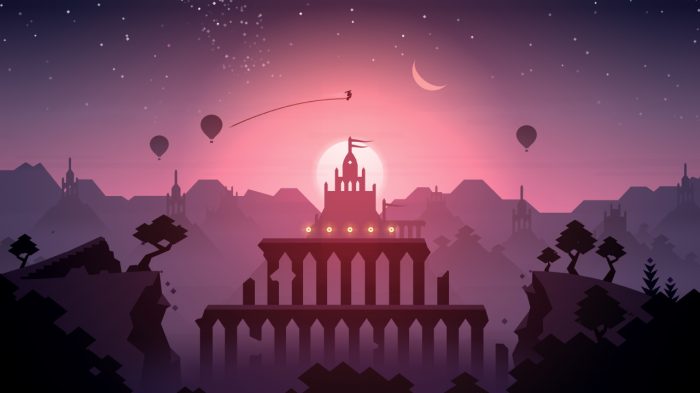 ---
As peaceful as The Alto Collection is, there are still moments that can catch you off guard and leave you in a panic, as I so quickly learned. When you pass the 2,000m mark, you will come across obstacles that you can't just jump over. In Alto's Adventure, a village elder who is peacefully trying to rest at a campfire will chase you and knock you off your board telling you to "respect your elders", and in Alto's Odyssey, it's a conspiracy of Lemurs attempting to chase you down. Outrun them for long enough and eventually, they will go away… Eventually.
I often struggle to drift off to sleep at night, but with The Alto Collection, I had absolutely no trouble. It's a relaxing and beautiful game that put me at ease within seconds of playing it. Both games deserve the attention of many. It can be repetitive, and if you don't like endless runner games then this may not be for you, but for such a small price point, it's worth the risk.
---
The Alto Collection
£7.89
Summary
The Alto Collection is a great addition to the endless runner genre and has everything going for it. I only wish that I would have come away feeling that both games were connected instead of like I'd been playing separate levels of the same game.