When I was a young child my dream was to become a vet when I grew up; to help animals feel better after an illness or an injury. This dream never became a reality and so it was with some excitement that I took on the role of the lead veterinarian in My Universe – PET CLINIC CATS & DOGS.
My Universe is a simulation game in which you run your own veterinary clinic, helping sick cats and dogs get better as well as bathing them and building a bond with them. Injuries, fevers, ticks, animals that don't want to eat, and even dirty animals in need of a good clean are what you're going to be dealing with on a daily basis.
---
---
After creating your character (from the limited choice of variables), it's time to open your clinic. You will have two patients per day, making the days rather short and over quite quickly. When a sick animal enters the clinic, you are given a brief description of what is wrong with them, and it's then onto the table for further treatment. At this point it will become apparent just how simple the game is.
Treating the animals requires a number of simple mini games challenges to proceed, such as repeating a particular button combination or selecting identical images. These vary depending on what is wrong with the animal. Unfortunately, there didn't appear to be much variety in the cases that come into your clinic. There were often days where I would get a dog with a cold three times in a row. The brief description of what is wrong with a pet is also not personalised at all. The same description is given each time a pet has an injury, without even a 'he' or a 'she' to personalise the context. It feels almost robotic.
---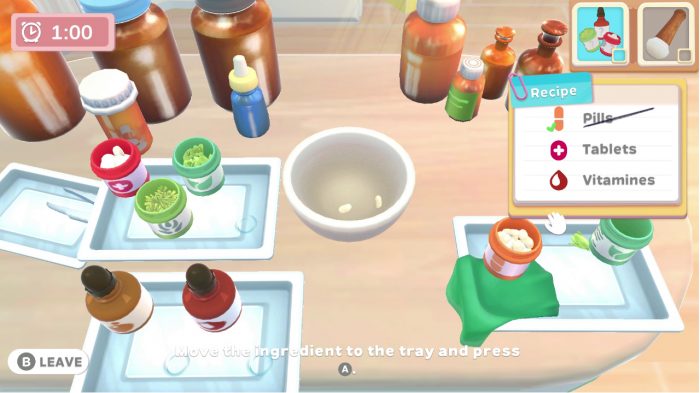 ---
Each treatment comes with a happiness score; complete the task within the given time and without mistakes and that animal will be happy when you're finished, rewarding you with a score out of three stars. It's pretty easy to get the full three, which will result in you being paid slightly more for your work.
As you treat your patients you will be given various quests to complete along the way, which will help level up your clinic, and in turn unlock new upgrades and rooms which can be purchased with money you earn. The quests are pretty basic: treat a certain number of patients, make a certain amount of money and gain a certain number of stars are among the majority so it won't take you long to work through them.
---
---
When treating the animals, occasionally their owners will give you a gift as a thank you for helping their beloved pet. These gifts consist of donations and decorations that can be placed around the clinic such as children's drawings, plant pots and even furniture. Each room in your clinic has a certain number of decoration spots. You can then choose what items you would like where within these specific locations; a neat little feature that makes the clinic feel more personal.
I was surprised to find there were a number of different breeds of cats and dogs in My Universe – PET CLINIC CATS & DOGS, ranging from German Shepherds to Ragdolls which are all easily identified if you're familiar with them.  It's a nice touch that you are able to interact with each animal that enters the clinic, giving them as many cuddles as you'd like. You then get a nice little photo of them to display on your wall, although sadly each picture is mostly the same, and only the breed differs.
My Universe – PET CLINIC CATS & DOGS would be an entertaining game for children, but it's hard to find the appeal for anyone else.
---
My Universe - PET CLINIC CATS & DOGS
£35.99
Summary
My Universe – PET CLINIC CATS & DOGS is not the game I had hoped it would be. Instead, it's a generic and repetitive simulation game with gameplay that doesn't fit the price tag.