Take a stroll into the wild, wild west. Here you will encounter bandits, monks, trains, dirt, dynamite, and maybe even a cactus or two. Brought to us by publisher HandyGames, El Hijo – A Wild West Tale is a dirty, dusty, bandit-filled video game starring el hijo: the son.

The game begins with mother and son paying respects to a grave under a shady tree on their farm. This bittersweet imagery is interrupted by bandits who proceed to burn their farm to the ground. They manage to escape, and the mother leaves el hijo at a monastery where she hopes he will be safe. But something fishy is going on, and el hijo must use the noble art of sneaking in order to reunite with his mother.
---
---
And sneak he shall! The son is, after all, only a small boy. He has a trusty slingshot, but the rocks he fires are by no means deadly. The slingshot is used mainly as a tool for distraction; shooting a rock in the vicinity of an enemy can create a handy diversion allowing el hijo to sneak by. 
In a stealth game, the shadows are always your friend, and the same is true in El Hijo. While shadows may be abundant when the game first starts, el hijo will also have to be sneaky in broad daylight as well. 
There are plenty of tools and tricks introduced throughout the game that can help players navigate levels without being caught. Proper use of these limited tools, from a smoke bomb to fireworks, is essential, as el hijo can only carry three of each at a time.
---
---
Oftentimes a story told without words is the most powerful story of all, and this is one of those times. There is no dialogue, no subtitles, nothing except atmospheric music and a few sound effects. Removing language has only enhanced the game's atmosphere. The locations el hijo must sneak through are telling a dark story, and something untoward is going on that needs to be set to rights.

In a few levels you get to play as the mother. These levels are great because she is a strong female character fighting for justice. The mother has a slightly different set of skills than the son, and a more powerful slingshot, but she has to be just as sneaky in order to outwit the bandits.
---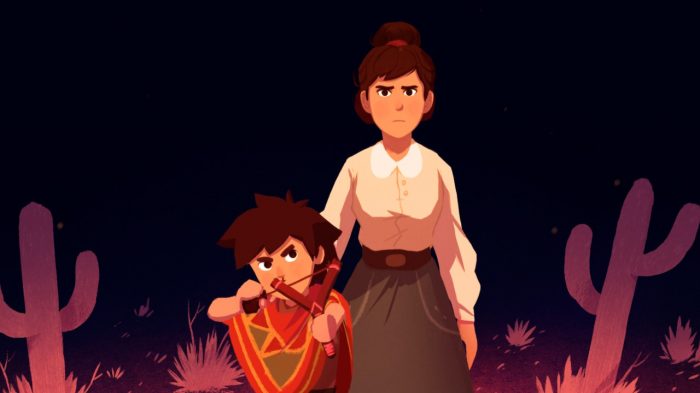 ---
Visually, the game has a lovely top-down art style. Pressing R will send out your pet bird, and expand the field of view of the level, allowing you to see which objects you can interact with, and the enemies' field of vision. You cannot move while surveying the landscape, so it must be done strategically.
El Hijo does appear to suffer from a few minor gameplay snafus however. There is some lag, most notably when pressing R to view the level, and the more things happening on screen, the more clipped and laggy it gets.
The controls also suffer from some latency issues. Pressing Y to crouch or hide in a pre-designated hiding area doesn't always happen smoothly. Sometimes I found myself pressing the button two or three times before the input was recognised. Like the visual lag, this appears to be more prevalent when more business is happening around el hijo.
Sometimes enemy AI is more frustrating than challenging. I discovered (and exploited) a clipping glitch that allowed el hijo to go through staircases and bypass enemies patrolling at the bottom. 
All in all, El Hijo – A Wild West Tale is a neat little stealth game with a seriously cool story. If a patch or two come along to fix up a few of the lag and latency issues, it should be considered for any stealth-game-lover's library.
---
Summary
El Hijo – A Wild West Tale is a charming stealth adventure game with an amazing story. However, some latency issues can lead to more frustration than fun. Fingers crossed for a patch, and then it will be well worth a purchase.