Soaring onto Switch screens and already surpassing a player base of five million as of June, Knockout City from EA and developer Velan Studios aims to turn the prestigious, thrilling sporting event of dodgeball into the next big multiplayer hit.
With a popping, bright presentation, gameplay modes that strike a nice balance between arcadey fun and competitive slugfests, and enough cosmetic rewards to keep you climbing that XP ladder, its round rubber projectiles hit all the right notes with painful efficiency. Welcome to Ouchtown. Population? You, bro.
---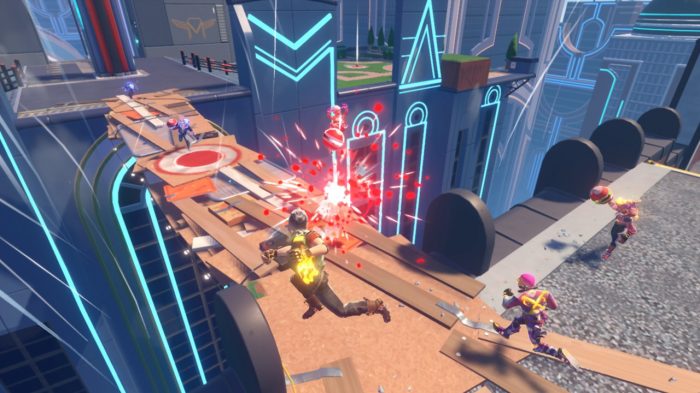 ---
Somewhere between classic deathmatch and extreme sports gameplay, Knockout City has fine-tuned core dodgeball mechanics that feel natural in an instant and are easy to understand. However, with spins, lobs, tackles and charged attacks to master, you'll have to dodge, duck, dip and dive and dodge like Patches O'Houlihan himself if you want to be in with the chance of becoming MVP.
As you ascend from Average Joe to Purple Cobra — scoring XP from matches and missions completed — you'll unlock different cosmetic items to personalise your character loadouts with, ranging from hairstyles, to outfits, to taunts and more. There are tons of contracts testing your skills in the field, and daily challenges incentivise you to dip in and out regularly.
Along with a rotating 'Brawl Shop' that you can purchase items from, the game replicates the successful Fortnite model, establishing a level playing field gameplay-wise but drawing you in with shiny new pieces of gear to make your character look that bit more intimidating out on the court. Additional 'Holobux' — the game's currency — can be purchased if desired, as well as XP boosters to help you level up faster, but these can be earned easily enough through regular play and don't feel intrusive.
---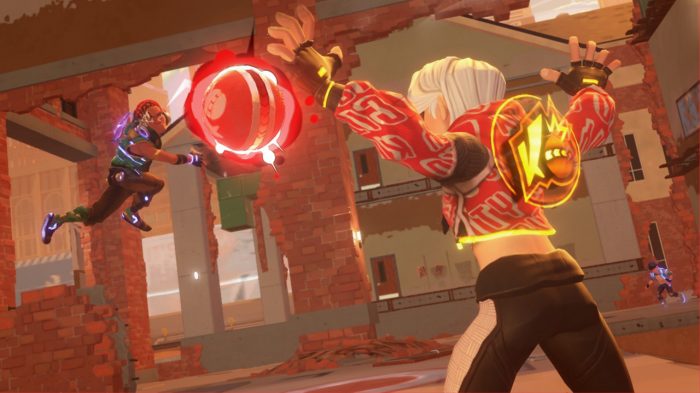 ---
The game introduces a multitude of elements to build upon the core concept of dodgeball, squeezing as much out of the gameplay as possible and keeping the central loop fresh and exciting. Various gameplay modes go in and out of rotation — from standard team affairs to diamond-collecting dashes and matches scarce of dodgeballs that force you to throw teammates.
There are also some distinctively designed maps to duke it out in, and even special dodgeballs that require close attention when countering or using, from gravity altering moon balls that allow you to float through the sky, to oval-shaped rugby 'sniper' balls that can speed right into an opponents face when successfully lined up and charged. The frantic chaos that these modifiers create is always good fun to play casually, but there's also ranked league play for those that want to take things to the next level.
There are free-for-all and 1v1 'face-off' matches to enjoy, but the game does inherently feel like a team sport, and jumping into online matches with random people can be a little annoying at times. The way you sync up, pass, and generally work together is key to success, and it can fall apart quickly if your group isn't on the same wavelength.
---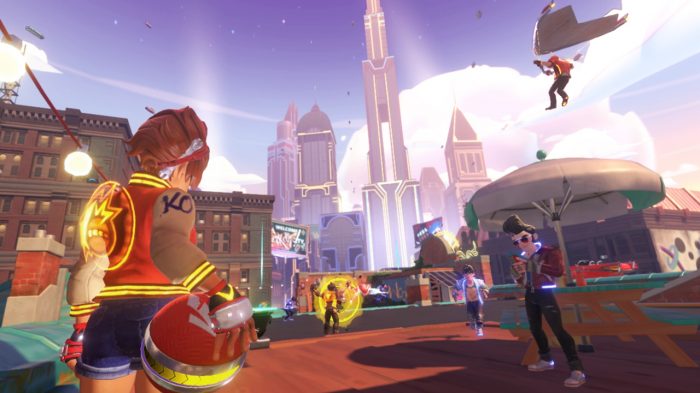 ---
It's for this reason, then, that Knockout City encourages you squad up with its Crew feature, allowing you and your friends to come together in a team, with personalised rides, banners and logos to match. As well as nailing that 'one more match' gameplay loop to accrue XP and rewards, it's also super fun to jump into a private match and duke it out Goldeneye-style, for ultimate bragging rights.
Knockout City's performance on Switch is also an achievement. With their previous project Mario Kart Live using the hardware in such a unique way, perhaps developer Velan Studios have a deeper understanding of the platform, but the game feels built with the hybrid in mind. There's both seamless cross-play and integrated voice chat, and you also have the option to switch between performance and graphics mode, favouring visuals or frame rate based on preference. The pressure is now on Mediatonic for the eventual release of Fall Guys on Switch. Sure, it's an unfair comparison to make, but it's still a relevant point to consider given the games will be competing for similar player bases.
Knockout City's sound design deserves praise here, too. Aside from the wonderfully cheesy commentator, or the catchy music that raises tensions during battle, effects that trigger when an incoming attack is looming become familiar and reliable audio cues, and the sound of successfully pinging a dodgeball off an opponent's bonce will never get old.
---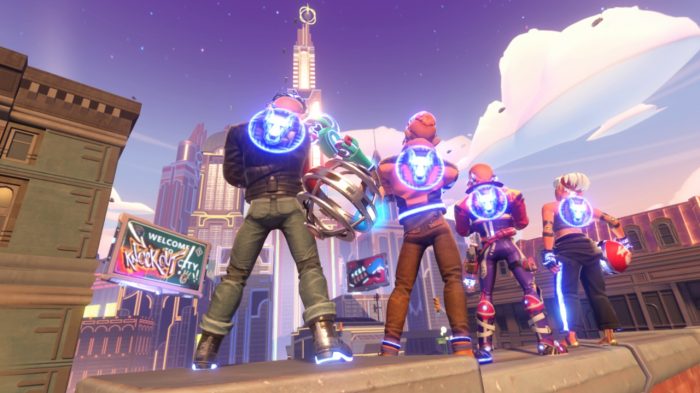 ---
Overall, with stellar performance options on Switch and plenty of room to innovate and expand on the core, satisfying dodgeball formula going forward, Velan Studios and EA have established a solid foundation with Knockout City.
As an added incentive, the game is also completely free to play up until you reach level 25, so you have plenty of time to test the waters and commit if you decide you want more. It's a bold strategy here from EA, let's see if it pays off for them.
---
Summary
An addictive action-sports hybrid with plenty of customisation options, rotating gameplay modes and an exciting roadmap ahead, Knockout City earns its spot as a multiplayer mainstay in valuable Switch SD card real estate for the foreseeable future.