After years in development, including a name change and additional support from Sumo Digital, Hotshot Racing (formally known as Racing Apex) speeds onto the Switch – but is this the polygonal racing throwback you were waiting for?
To prevent you from waiting any further: yes, it was worth the wait. Upon playing Hotshot Racing, I was instantly drawing comparisons to other past racing games – specifically those from the 1990s. In many ways, Hotshot is an amalgamation of racing games of that era, most notably Ridge Racer, Daytona USA, and Virtua Racing. Whilst the latter is available on the eShop, there still feels like an absence of a "new," pure arcade racing game on Switch.
---
---
Thankfully, Lucky Mountain Games (with help from Sumo Digital) were all too happy to oblige. Nothing gets in your way as you head straight to one of the many unique tracks on offer. Whilst there are only four distinct overarching regions (coast, desert, jungle, and mountain,) each one has four very different track layouts and accompanying visual designs. The result: sixteen surprisingly unique tracks to race around.
The racing feels fast and responsive, with the drifting component being responsible for the comparisons with Ridge Racer. This does take a little getting used to, but there are different camera options which can help. Playing in handheld mode does feel a little bit cramped, so using a controller by itself might be a bit easier. But, for normal play, handheld isn't going to slow you down compared to docked.
---
---
The main mode you'll initially be drawn to is the Grand Prix, which is split between four cups as well as three difficulty levels. Normal is the most rewarding, as you are challenged, but are helped out by some light rubber banding. Meaning, the other cars will be close enough to your tail to pose a challenge, but should you fall back for any reason, it's not too difficult to catch up. Shift up to hard, and it quickly lives up to its name.
Once you have had your fill of the Grand Prix, you can stay for the Single Race section, which contains more modes. Arcade mode is as pure as it gets, with one-off standard races. Things get more interesting with Cops & Robbers, which sees the robbers attempting to gather as much cash as they can while being chased down by the cops. Receive enough damage, and you become a cop. Then there is Drive Or Explode, basically like the movie Speed: lose enough speed, and you risk exploding. The same is true for your opponents who risk elimination. Further contributing to the variety is the option to mirror all of the tracks. If that wasn't enough, there is also Time Trial mode.
---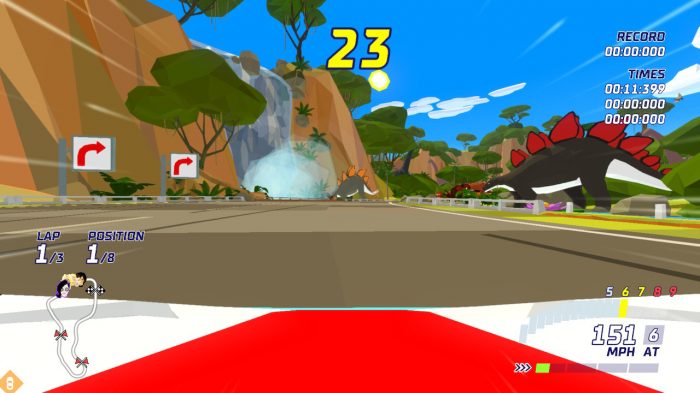 ---
Now, I've saved the best till last: the aesthetics. The visuals and sounds are what make this game truly stand out. The polygonal style has made a comeback in recent years as another example of nostalgic throwbacks, but its implementation gives the game a wonderful freshness. Everything about it makes you want to smile as you blast past the vivid scenery. Who needs highly detailed environments when you have low-poly dinosaurs to marvel at?
Hotshot Racing is a superb arcade racer that is self-aware of its "gimmick," but embraces it to provide that shot of 90s Sega-esque blue skies and bravado.
---
Summary
Hotshot Racing is a high-octane racing treat for the Switch. Whilst self-aware of its 90s inspirations, these never get in the way of providing a solid arcade racer – something any current console will benefit from.