Ever since his debut in 1981, Mario has been teaching people across the world different life skills: jumping, painting, driving, outwitting gorillas… but ever since 1998, everyone's favourite Italian plumber has been showing humanity how to PARTY!
Many-a-nostalgic Nintendo 64 gamer will fondly recall Mario Party, Mario Party 2, and Mario Party 3. Released in 1998, '99, and 2000 respectively, gamers were delighted by a deluge of digital board games stored conveniently inside their console. 
---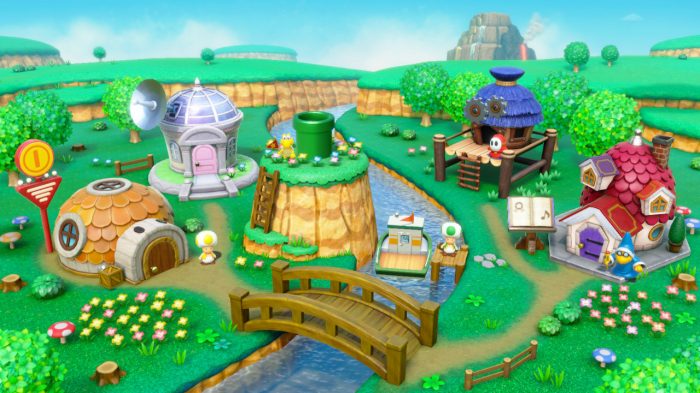 ---
Full of whacky fun, mini-games, sabotage, and—of course—stars, Mario Party has become a Nintendo staple. The series has had its ups and downs, and fans of the franchise definitely have their favourite (and least favourite) iteration.
Fortunately for Nintendo Switch owners, the first three Mario Party games were quite well received. Nintendo has mashed those first three N64 gems together and dumped the gooey contents through a sieve. Then they've taken the bits that fell through and primped and polished them up into a shiny new package for a new generation of gamers to enjoy.
Mario Party Superstars consists of five remastered game boards from the N64 days of yore: Yoshi's Tropical Island, Space Land, Peach's Birthday Cake, Woody Woods, and Horror Land. Each board has a different gimmick, and therefore offers a different gameplay experience. For example: Monty Mole will change the directions on the board every turn in Woody Woods. In Horror Land, the board goes from day to night and different events can happen during the different times of day. 
---
---
There are two different game modes in Superstars: the classic Mario Party and Mt. Minigames. Mario Party mode is where the meat of the game is. Take a plunge down the green warp pipe where the helpful Koopa Troopa will get you to select your characters (Mario, Peach, Yoshi, etc.), board, and settings. After that, you'll be plopped into the game where everyone will roll to decide turn order, and then it begins.
For anyone who has never played a Mario Party game before, gameplay consists of everyone, first, taking their turn: roll a dice, move that amount of spaces, and do the "event" of whatever space you land on; once everyone has taken their turn there is a four-player minigame. What space you landed on during your turn will determine what kind of minigame is played: four versus four, two versus two, or the dreaded one versus three. After each minigame, winners receive coins and players move on to the next turn.
Run around the game board collecting stars, then, at the end of the game, the person with the most stars is the winner! It sounds simple enough, but there are so many variables in play that it truly isn't over until it's over. Mario Party can be a jolly time with friends and family, but it can just as easily become a fiery competition of rage and disownment.
Even with Nintendo's reputation for being family friendly, you may not feel so friendly towards your family once they steal a few of your hard earned stars. Sabotage, underhandedness, and double dealing abound: pay a Boo to steal your best friend's star, or trigger (a slightly communist) Bowser Revolution to even out everyone's coins. Mario Party is the definition of "easy come, easy go". 
---
---
To top it all off, there are always a few bonus stars handed out at the end of every game. Players are awarded stars for achieving certain goals during the game. In the original Mario Party games, these bonus stars were always given out for most minigames won, most coins collected, and most event spaces landed on. Knowing what extra stars will be given out at the end can create an extra level of meta-gaming throughout. Besides simply playing and trying to collect stars, some players may choose to strategise by aiming to get the most coins, or using items to land on more event spaces. 
In Superstars, while setting up your game, you can choose how bonus stars are doled out. If you choose Classic you will always get the minigame, coin, and event stars; if you simply leave them on you will be awarded two or three (depending on game length) bonus stars at random: things like finding the most hidden blocks, or landing on the most Bowser spaces, could be the reason for a lucky star at the end of the game. However, you can also toggle the bonus stars off altogether if you so choose.
Players also have the ability, to a certain extent, to customise the minigames for each party. Use only the games from your favourite era: N64 or GameCube, or choose from family friendliness, action, or skill. You can dictate the pace of each game by what kind of minigames you want, or you can simply leave them all on!
While five game boards may not seem like a lot, the ways players can customise each game will keep it feeling fresh for a good amount of time. Though we can only hope for some (hopefully free) DLC in the form of additional boards (perhaps from other previous Mario Party instalments) as just five "superstars" from the N64 games only seems like a disservice to all of the fans of any other Mario Party games. 
---
---
If you played the other Switch iteration Super Mario Party, you'll definitely notice some differences. In Superstars there are no special character dice. Everyone has the same ten-sided dice, so your choice of character is completely arbitrary and aesthetic only. Also, allies are gone. Allies were special spaces you could land on that would give you an NPC buddy who would throw a dice with you, adding to your total roll. Many feel that buddies were a huge imbalance to the game, and if you were lucky enough to get one (or more) you would basically win by default. However, I thought buddies were fun, and a nice strategic addition. 
Mario Party Superstars is a cake stripped of all that fancy ganache that some believe Super Mario Party was trying too hard to add. Superstars is a much more straightforward board game with fewer gimmicks. 
In this day and age of the internet and global connectivity, it's a no-brainer that Superstars has the ability to play online. You can hop into a game with three other random people and use the in-game stickers to communicate. You can also join (or create) a room that only your Nintendo Switch friends can be a part of. A full party of four is not required, as any missing spaces will be filled by an NPC character. 
The online appears to work flawlessly! Playing in North America with a friend from the UK, I didn't experience any lag or dropped frames. I can say the same for when I played with random people online too. Though I've heard that other people have had trouble with lag when playing with people overseas, I never experienced such an issue. Playing online is fun, even with random people! 
---
---
But playing in-person with friends, during a good old fashioned board games day, is definitely where it's at! Emotions run high, and many minigames take skill and feel amazing when you win. Other minigames feel downright unfair (pretty much any one versus three game) but when playing with friends those times become amusing rather than frustrating. 
The other game mode is Mt. Minigames. In this mode players can skip all of the board game stuff and focus solely on the minigames. There are seven different modes to play, some of which can only be played solo online (Survival mode to see who can get the longest win streak, or the Daily Challenge mode). 
The game is graphically lovely, full of those bright Mario colours we all know and love. N64 fans are sure to love seeing those old, sharp, polygonal game boards join us in the modern graphical world of smooth lines and realistic water effects.
All of the music has been remastered as well, but if you want you can go into Shy Guy's settings house and switch the music to its classic N64 sound. 
All in all, Superstars is a fun way to spend some quality time with your Switch. Whether you hop online, fly solo, or hit up some friends, there's plenty to entertain for several moons. Five boards is a nice start, but let's hope Nintendo will be more forthcoming with additional content down the road!
---
Mario Party Superstars
£49.99
Summary
Mario Party Superstars is N64 nostalgia remastered. Collect stars, stickers, and achievements while messing with your friends! With five updated game boards, and minigames from the N64 and GameCube eras, fans will be able to squeeze plenty of fun out of this one.