Find out more about some exciting new indies games headed to the Switch!
EGX Rezzed is an indie-game focused developer event run by Gamer Network, perhaps better known for their EuroGamer and US Gamer websites. For the last few the event has been held in London's historic Tobacco Dock, allowing developers and publishers to show off their shiny new games for members of the press and public to get their hands on. I've gone for the last four years in a row, but was especially excited for this year's event because the Nintendo Switch was there, secluded away in a corner of the basement with a selection of exciting titles. Here's what I played.
Playable on Switch!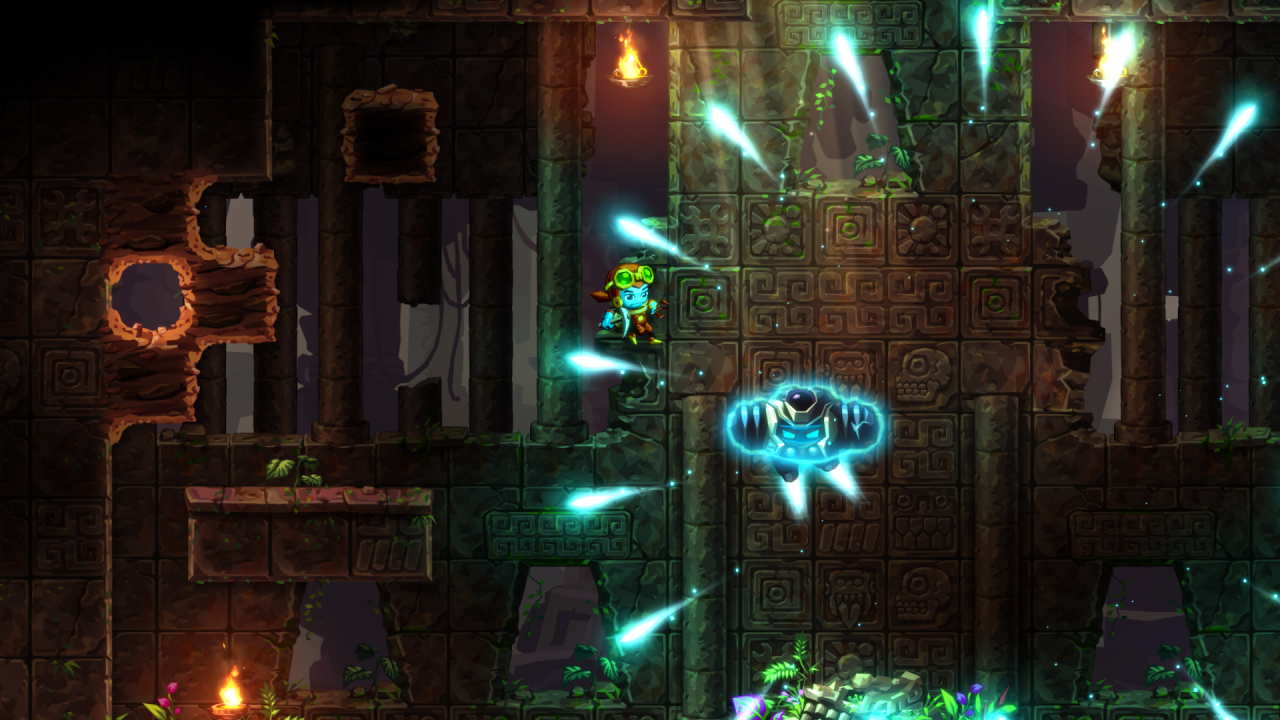 SteamWorld Dig 2
The first game I made my way to was SteamWorld Dig 2. Image & Form's Community Manager Julius Guldbog soon had a controller in my hand as I got stuck in with new protagonist Dorothy. It didn't take long until I was digging my way around the cavern, and finding my way around a level which did not appear to be procedurally generated. With typical puzzles in play I soon upgraded Dorothy's running speed to help me get through tricky obstacles and before long I'd finished the demo. It felt very familiar, so anyone that's played the first will feel right at home but Julius told me that it's going to be so much bigger, better and more ambitious than the first game. With the promise of HD Rumble implementation and a planned summer release, hopefully you won't have long to wait to continue this latest adventure in the SteamWorld universe when it arrives this summer, first on Switch.
Overcooked
Next up was (now two-time BAFTA award-winning) Overcooked from Ghost Town Games. I was aware of Overcooked, but had never played it before and can report that it was a treat. A four-way multiplayer affair, you will need to work together with your fellow restaurateurs to complete the meals that are needed. With all of you needed to chop, cook, set and even clean the plates, timing and organisation will be crucial and it's tremendous fun and very well suited to the party based fun that the Switch is aiming for. Of course, the wicked course design – or is that evil? – really impacts your ability to achieve the dish preparation, if it wasn't hard enough already! If you haven't picked it up yet, or loved it enough to double-dip, you'll definitely want to keep an eye out for this on the Switch.
Gonner
Gonner was a very strange little game that rogue-like fans are going to love. You start off as a blob but before long you collect a head and limbs and you'll be shooting your way through the procedurally generated levels as you try to get as far as you can. You'll die, and you'll die a lot but that's always the case with games like this. With different (and randomly assigned) weapons and combinations at your disposal it has the "one more go" style of play where the next time could just be the one. Definitely one to keep an eye out for.
Pocket Rumble
A perfect example of a game that is more than the sum of its parts, Pocket Rumble may look like a simple, indie version of a classic 2D brawler, and to be fair it is, but it hides a tremendous amount of depth in its gameplay. Developed to be easy to play, the game features a two-button fighting system with many combo systems and characters available across a wide variety of modes. One of the highlights of EGX Rezzed for me and I can't wait to play it again.
De Mambo
I'd played De Mambo before on the PC at previous EGX events, but this time it was here on the Switch and to be totally honest, it's well suited to the hybrid. De Mambo is brawler which has been heavily influenced by Smash Bros, but with a simple and intuitive one button control scheme. The idea is to battle your opponents and either block, attack or shoot with the attack determined by how long you hold that button down for. What ultimately ensues is a few minutes of utter carnage, and it's utterly addictive. Don't be fooled by the simplistic look, this is surprisingly deep and with a huge variety of levels available, you can guarantee that no two fights will be the same!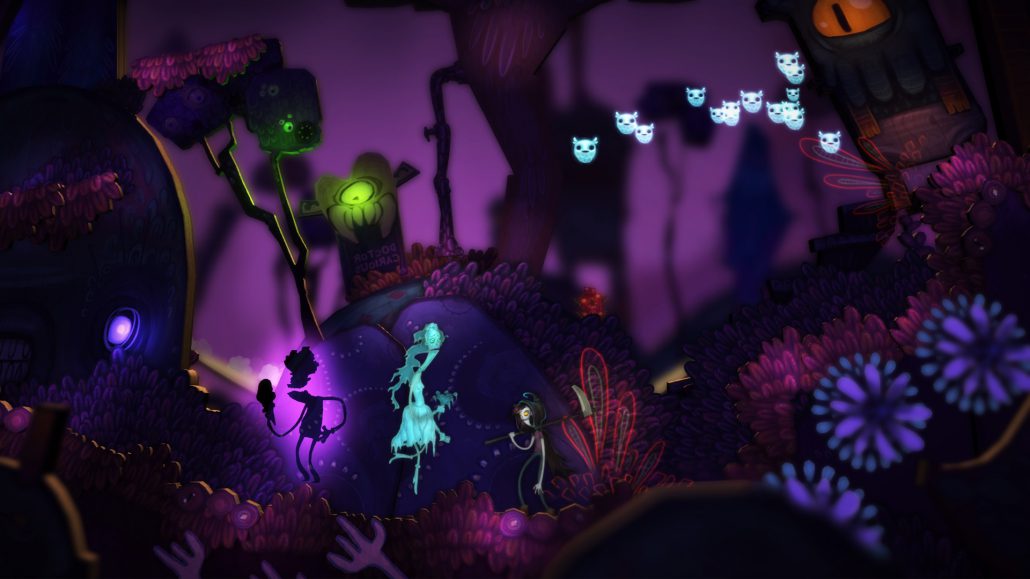 Flipping Death
The final game I played on the Switch at EGX was one of the best, Flipping Death from Zoink Games. Sharing a similar art style as their previous title, Stick it to the Man, to progress through the game you switch between the afterlife and the living world, possessing characters as you go to aid them in your quest. The demo saw me take control of many souls as I tried to repaint a ship, solving puzzles along the way. It was very though provoking and I loved the look of the game. If you like any of Zoink's previous work, you'll certainly keep an eye on this!
Also playable on Switch were Snipperclips – Cut it out, Together and Fast RMX, but I skipped playing both as I've already played them (and we've reviewed both) so there was little point.
Wargroove
Present at EGX, albeit not playable on the Switch, Wargroove was probably the standout game for me. Heavily inspired by Advance Wars but truly it is its own thing, the game features medieval units and character artwork rather than the military units from Intelligent System's strategy masterpiece. We've long been overdue a new title in the series, so this spiritual successor may well fill that itch you might have. Definitely one to keep an eye on.
RiME
RiME was playable in the "Unreal Engine" room, showcasing titles that run on Epic Games' game engine and I have to say it looked incredible. The clever puzzles worked well with the brilliant atmosphere in a game which encourages you to look around and search for the answers. No hand-holding here, you'll be needing to work it out for yourself when it arrives on the Switch.
Also present at EGX (although not playable on Switch) were Sonic Mania, Snake Pass and Yooka-Laylee, but due to time constraints – not to mention humongous queues – I had to pass on these, unfortunately. Check back in a future magazine for more news on Sonic Mania and Yooka-Laylee, and you can check out our Snake Pass review this month!